»

Recipes

»

Macaroni

»

Macaroni For Kids
Macaroni for Kids Recipe
Needed to make a quick snack for Cherie and her friends. Condition: No chilli to be used at all. Condition: I had 10 minutes. So here goes. You'll need: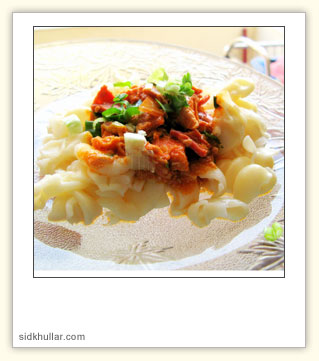 Ingredients
Macaroni

1 Cup (16 tbs)

Chopped spring onions

1⁄2 Cup (8 tbs)

, chopped

Chopped ham

1⁄2 Cup (8 tbs)

Diced boneless chicken

1⁄2 Cup (8 tbs)

Chicken stock

1 1⁄2 Cup (24 tbs)

Tomato puree

1⁄2 Cup (8 tbs)

Butter

2 Tablespoon

Oregano

1 Teaspoon

Lemon juice

1 Teaspoon

Honey

1⁄2 Teaspoon

Salt

To Taste
Nutrition Facts
Serving size
Calories 580 Calories from Fat 188
% Daily Value*
Total Fat 21 g32.9%
Saturated Fat 10.4 g52%
Trans Fat 0 g
Cholesterol 85.3 mg
Sodium 561.8 mg23.4%
Total Carbohydrates 58 g19.3%
Dietary Fiber 4.6 g18.4%
Sugars 8.8 g
Protein 37 g73.3%
Vitamin A 21.8% Vitamin C 22.4%
Calcium 8.9% Iron 29.1%
*Based on a 2000 Calorie diet
Directions
1. Boil macaroni as mentioned on the pack. Drain. Sprinkle a little oil over it, toss, set aside.
2. Melt the butter in a pan. Cook on a low flame from this point on.
3. Add the chicken and saute for 2 minutes.
4. Add the ham and saute for a further 2 minutes.
5. Add the tomato puree, oregano and honey. Mix and cook for 2 minutes.
6. Add the stock.
7. Using a high flame, bring to a boil.
8. Add the spring onions, reserving a little for the garnish.
9. Add the lemon juice and take off the heat.
10. Serve on the macaroni, sprinkled with the spring onions.

Fun healthy kids snacks says :
Good recipe. Many children tend to eat frequently through the day as their bodies require. One should not force children to eat more and more like adults do. A child under the age of four or five might eat six to seven times a day. One can give fresh fruits and vegetables, whole grain crackers, cheese cubes, peanut butter-cheese sandwiches into daily snacks. Also can try can try a yoghurt shake with fruit of choice. Try to avoid pre-packaged snacks because its unhealthy. One can go for milk-based drinks because it rich in proteins, calcium, iron, also fruit juice will be good.
Posted on:
28 July 2009 - 1:22am