»

Recipes
Macaroni and Cheese Recipe
Macaroni and Cheese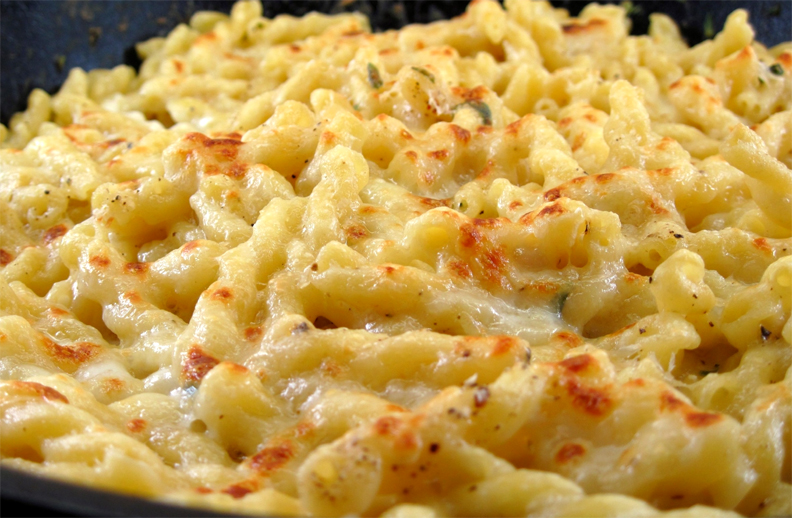 Ingredients
Elbow macaroni

1 1⁄2 Cup (24 tbs)

, uncooked

Butter

3⁄4 Cup (12 tbs)

American cheese

1 1⁄2 Cup (24 tbs)

Parsley

1 1⁄2 Tablespoon

Pimiento

1 1⁄2 Tablespoon

Onion

1 1⁄2 Tablespoon

Salt

1 Teaspoon

Pepper

1⁄2 Teaspoon

Paprika

1⁄2 Teaspoon

Eggs

2

Milk

2 Cup (32 tbs)
Nutrition Facts
Serving size: Complete recipe
Calories 3138 Calories from Fat 2104
% Daily Value*
Total Fat 237 g364.2%
Saturated Fat 143.4 g717.1%
Trans Fat 0 g
Cholesterol 1046.7 mg
Sodium 2332.7 mg97.2%
Total Carbohydrates 159 g53%
Dietary Fiber 8.5 g34%
Sugars 33.7 g
Protein 102 g203.8%
Vitamin A 223.6% Vitamin C 87.5%
Calcium 206.1% Iron 46%
*Based on a 2000 Calorie diet
Directions
Cook the macaroni in boiling salted water for 15 minutes.
Drain and pour cold water through it.
Put it in a buttered baking dish.
Add the butter, cubed cheese, chopped onion, parsley, pimiento and seasonings to the macaroni.
Beat the eggs slightly and add milk to them.
Pour over the macaroni and cheese and bake, uncovered, at 325° for 50 minutes.
This may be served with mushroom sauce.