»

Recipes

»

Fudge

»

Low Calorie Fudge Squares
Low Calorie Fudge Squares Recipe
Low-calorie fudge squares recipe is one that you are going to love. This low calorie recipe will not only satisfy your hunger for sweet but will also take care of calorie intake. Try the low calorie fudge squares now.
Walnut Chocolate Fudge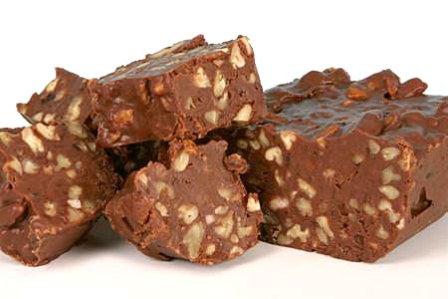 Ingredients
Margarine or shortening-1/4 cup

Unsweetened chocolate

2 Ounce

Liquid artificial sweetener-1/4 cup

Eggs

2 Small

, beaten

Vanilla

1 Teaspoon

Biscuit mix

1 1/2 Cup (16 tbs)

Walnuts

1/2 Cup (16 tbs)

, chopped
Directions
MAKING
1)In a pan, melt margarine and chocolate together and cool.
2)In a bowl, mix sweetener, eggs and vanilla and biscuit mix, chocolate mixture and walnuts. Stir to mix well.
3)Take a greased 8-inch square pan and put the batter in it.
4)Bake at 325 degrees for 25 minutes. Cool and slice into squares.

SERVING
5)Serve the low calorie fudge squares when desired.