»

Recipes

»

American

»

Louisiana Shrimp Gumbo
Louisiana Shrimp Gumbo Recipe
Louisiana Shrimp Gumbo is rich with the flavors of shrimp, clam juice and seasonings. This rich tasting appetizer is the best bet to add to your party menu. Just check out the recipe of the rich tasting and flavorsome Louisiana Shrimp Gumbo.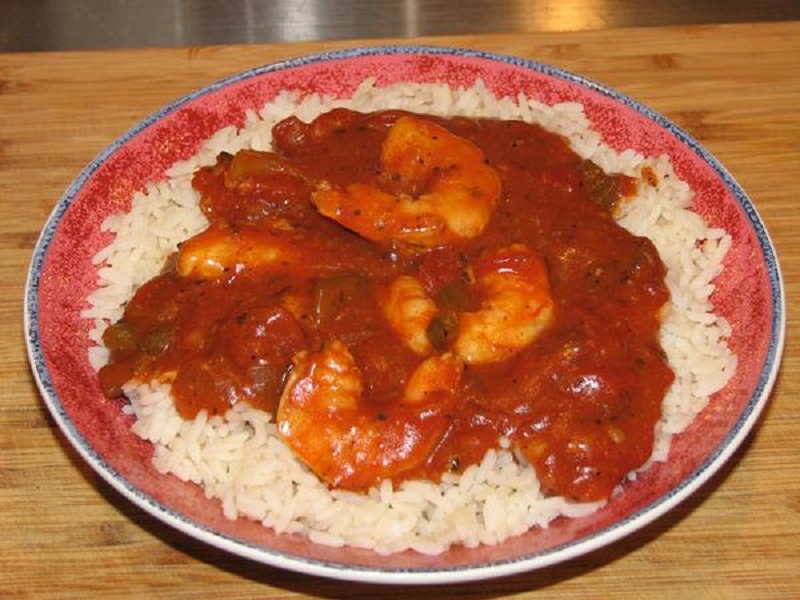 Ingredients
Onions

4

, chopped

Garlic

1 Clove (5 gm)

, chopped

Butter

2 Teaspoon

Flour

1⁄4 Cup (4 tbs)

Clam juice/Clam broth

2 Cup (32 tbs)

Canned plum tomatoes

14 Ounce

, chopped

Bay leaf

1

Thyme

1⁄2 Tablespoon

Pepper red

1 Dash

Okra

1 Pound

(10 Ounce. Frozen Or 16 Ounce. Fresh)

Green pepper

1

, chopped

Celery

1⁄2 Cup (8 tbs)

, chopped

Shrimp

2 Pound

, shelled deveined

File powder

1 Tablespoon

Salt

To Taste

Pepper

To Taste
Nutrition Facts
Serving size: Complete recipe
Calories 1695 Calories from Fat 235
% Daily Value*
Total Fat 26 g40.5%
Saturated Fat 9 g44.9%
Trans Fat 0 g
Cholesterol 1400.4 mg
Sodium 4563.3 mg190.1%
Total Carbohydrates 151 g50.4%
Dietary Fiber 34.9 g139.8%
Sugars 44.1 g
Protein 215 g429.4%
Vitamin A 156.6% Vitamin C 590.5%
Calcium 120.1% Iron 169.7%
*Based on a 2000 Calorie diet
Directions
Saute the onions and garlic in the butter until lightly browned.
Stir in the flour and keep sauteeing until the flour turns brown.
Stir in the clam juice and then add the tomatoes, bay leaf, thyme, red pepper, okra, celery and green pepper.
Cover and simmer until the vegetables are tender, (about 20 to 25 minutes).
Add the shrimp and simmer another 15 minutes.
Stir in the file' powder, salt and pepper.
Serve in a bowl with rice on one side of the bowl.
Keep some Franks Louisiana Hot Sauce on the side for the adventurous.
I spend a lot of time in the South and I fill up on this soup everytime I go down.
Image Courtesy :
http://en.wikipedia.org/wiki/File:Shrimp_creole.jpg