»

Recipes

»

American

»

Louisiana Baked Bluefish
Louisiana Baked Bluefish Recipe
Louisiana baked bluefish is an oven cooked fish recipe. Flavored with creole sauce and prepared with tomato juice to taste, the louisiana baked bluefish is a simple yet savory dish.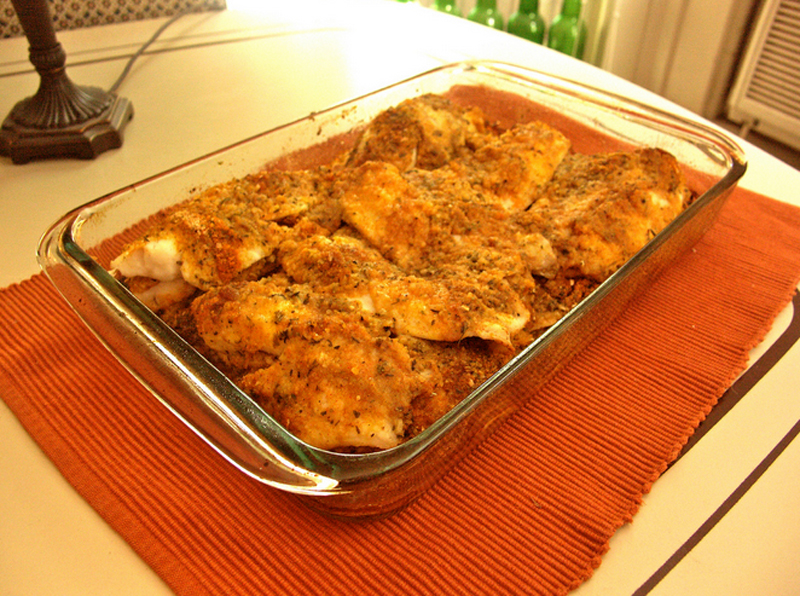 Ingredients
Bluefish

4 1⁄2 Pound

Tomato juice

3⁄4 Cup (12 tbs)

Creole sauce

4 Tablespoon

(Salad Oil)

Salt

To Taste

(Salad Oil)

Fine fresh bread crumbs

3⁄4 Cup (12 tbs)

(Salad Oil)

Pepper

To Taste

(Salad Oil)

Finely chopped onion

1 Tablespoon

(Salad Oil)

Melted butter

2 Tablespoon

(Salad Oil)
Nutrition Facts
Serving size: Complete recipe
Calories 3299 Calories from Fat 1062
% Daily Value*
Total Fat 119 g182.4%
Saturated Fat 35.4 g177%
Trans Fat 0 g
Cholesterol 1268.7 mg
Sodium 2891.3 mg120.5%
Total Carbohydrates 106 g35.2%
Dietary Fiber 6.4 g25.5%
Sugars 14.9 g
Protein 426 g851.4%
Vitamin A 193.7% Vitamin C 56.7%
Calcium 44.4% Iron 96.4%
*Based on a 2000 Calorie diet
Directions
Have fish cleaned, leaving head and tail intact.
Lay fish in a shallow, well oiled baking pan, rub the skin with oil, and sprinkle with salt and pepper.
Scatter onion over the fish, then add tomato juice to pan.
Bake in a preheated 350° oven for 30 minutes, basting occasionally with the tomato juice.
Remove from oven and pour Creole Sauce over fish.
Mix bread crumbs with melted butter and sprinkle on top.
Slide fish under a preheated broiler, 4 inches from tip of flame, and broil until browned.
Image Courtesy :
http://www.flickr.com/photos/scott-teresi/3572088466/