»

Recipes

»

European

»

British

»

London

»

London Broil
London Broil Recipe
The london broil is a broiled steak recipe prepared with garlic and vinegar. Simply marinated and cooked in a broiling pan, the london broil is simple easy and quickly fixed. Seasoned to taste, it can be served with vegetables.
London broil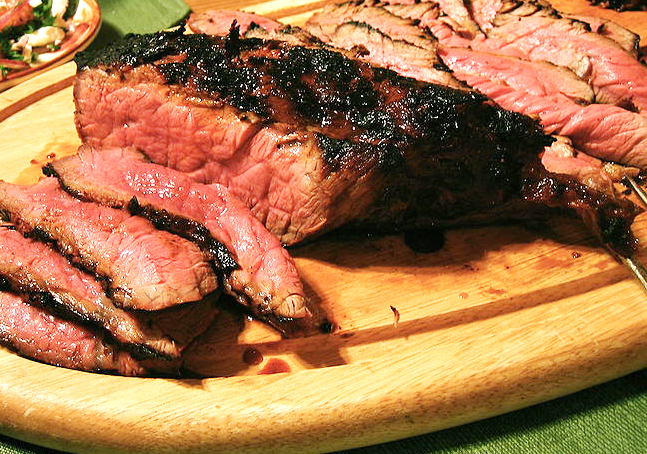 Ingredients
Flank steak

1 1⁄2 Pound

(1 Piece)

Vegetable oil

1⁄3 Cup (5.33 tbs)

Red wine vinegar

1 Tablespoon

Garlic

2 Clove (10 gm)

, minced

Salt

To Taste

Freshly ground pepper

To Taste
Nutrition Facts
Serving size: Complete recipe
Calories 1749 Calories from Fat 1009
% Daily Value*
Total Fat 109 g168.3%
Saturated Fat 24.6 g122.8%
Trans Fat 0 g
Cholesterol 180 mg
Sodium 1410.9 mg58.8%
Total Carbohydrates 4 g1.3%
Dietary Fiber 0.48 g1.9%
Sugars 0.1 g
Protein 139 g277.5%
Vitamin A 0.1% Vitamin C 5.7%
Calcium 2.4% Iron 36.3%
*Based on a 2000 Calorie diet
Directions
Trim excess fat from steak; score steak on both sides in 1 1/2 inch squares.
Set steak in a deep bowl.
Combine oil, vinegar, and garlic; pour over meat, and marinate 3 hours in refrigerator turning once.
Remove meat from marinade, and place on a lightly greased rack in broiler pan.
Broil 4 inches from heat 4 to 5 minutes.
Sprinkle with salt and pepper, and turn.
Broil an additional 4 to 5 minutes.
cut slice and serve.