»

Recipes

»

American
Lobster Newburg Recipe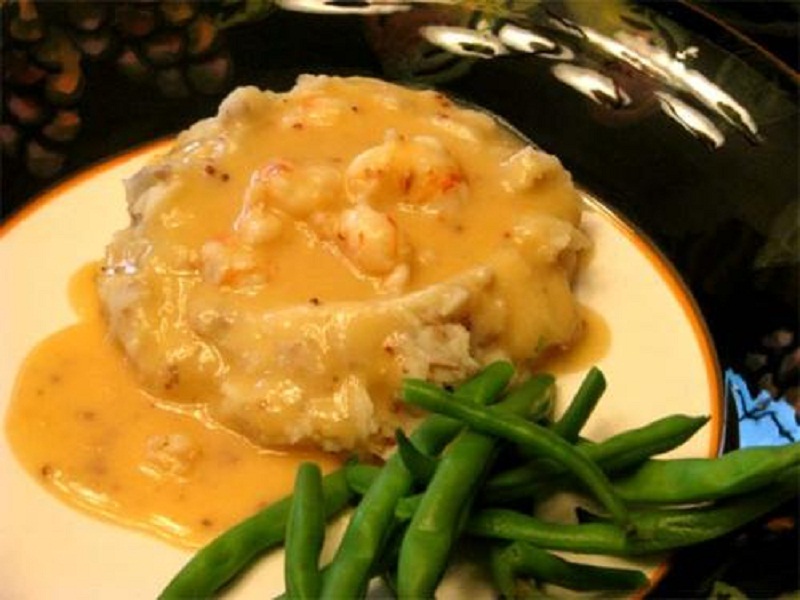 Ingredients
Butter

6 Tablespoon

Lobster

3 Cup (48 tbs)

, cooked (Fresh / Canned)

Madeira/Sherry

1⁄3 Cup (5.33 tbs)

Whipping cream

1 1⁄2 Cup (24 tbs)

Egg yolks

5

Salt

3⁄4 Teaspoon

Cayenne

1⁄8 Teaspoon

Lemon juice

1⁄2 Teaspoon

Patty shells/Toast points

6
Nutrition Facts
Serving size
Calories 1008 Calories from Fat 651
% Daily Value*
Total Fat 73 g111.9%
Saturated Fat 38.8 g194.1%
Trans Fat 0 g
Cholesterol 575 mg
Sodium 1128.6 mg47%
Total Carbohydrates 33 g10.9%
Dietary Fiber 0.05 g0.18%
Sugars 5.3 g
Protein 42 g83.1%
Vitamin A 20.5% Vitamin C 0.68%
Calcium 16.8% Iron 6.3%
*Based on a 2000 Calorie diet
Directions
GETTING READY
1. In a large pan, heat the butter over moderate heat
2. Add lobster meat to the butter and cook on gentle heat for one minute while stirring constantly
3. Pour in the wine and add one cup of wine
4. Stir gently and bring to the boil
5. Reduce the heat to simmering and cook for two minutes more

MAKING
6. In a large bowl, beat the egg yolks well.
7. Add cream and mix well again
8. Add ¼ of the lobster mixture and cook gently on a moderate heat till the mixture is hot
9. Once the mixture is thick, remove it off the heat
10. Season with salt and pepper
11. Add cayenne and lemon juice according to taste

FINALIZING
12. Spoon the mixture into patty shells

SERVING
13. Serve hot immediately or sprinkle with paprika and serve with toast points.