»

Recipes

»

Mexican

»

Lirit's GarLic It! Quesadilla
Lirit's GarLic It! Quesadilla Recipe
This is the recipe that was featured at the Taste of Washington, by Purple Beet Catering founder, Lirit Maslan.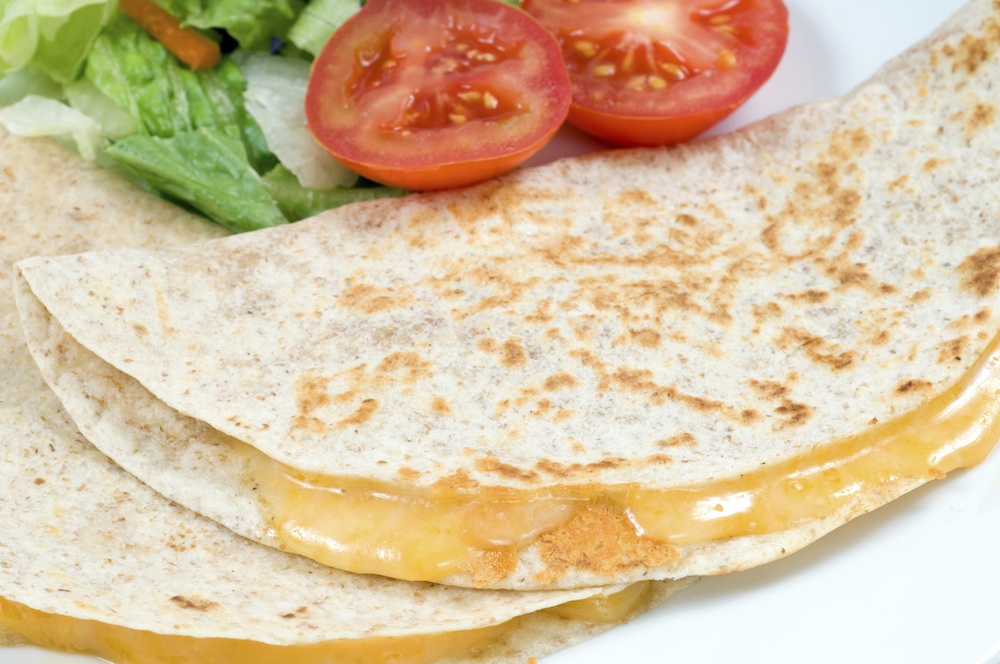 Summary
Difficulty Level
Very Easy
Servings
2
Ingredients
Flour tortillas

2 Large

Shredded cheese

1⁄2 Cup (8 tbs)

(A Mexican Blend Is Bes)

Spicy garlic

4 Tablespoon

(Chipotle Garlic It, Depends On How Hot You Want It)
Nutrition Facts
Serving size
Calories 362 Calories from Fat 142
% Daily Value*
Total Fat 16 g24.7%
Saturated Fat 7 g34.9%
Trans Fat 0 g
Cholesterol 27.5 mg
Sodium 1019 mg42.5%
Total Carbohydrates 37 g12.4%
Dietary Fiber 1.6 g6.4%
Sugars 6.1 g
Protein 18 g35.2%
Vitamin A 2.8% Vitamin C 4.2%
Calcium 34.6% Iron 10.4%
*Based on a 2000 Calorie diet
Directions
1. Use a large non-stick frying pan on medium heat, or spray your pan with non-stick oil. Place the first tortilla on the pan, then spread the cheese over the entire surface of the tortilla.
2. Spoon the Spicy Chipotle GarLic It! over the cheese, making sure to spread as evenly as possible. Cover with the second tortilla.
3. Let the cheese melt and check the bottom surface of the bottom tortilla for any signs of browning. When you see some browning, then use a spatula to flip the entire quesadilla. Watch the new bottom side for the same browning.
3. When ready, serve directly on plate, then cut into 2, 4 or 6 pizza wedge pieces. Excellent if accompanied by a little sour cream for taste.
To learn more about GarLic It!, or to purchase any of their products, visit
www.garlicit.com
!