»

Recipes

»

Pasta

»

Linguine Clam Sauce
Linguine Clam Sauce Recipe
A seafood and pasta lover's fix-it-fast feast.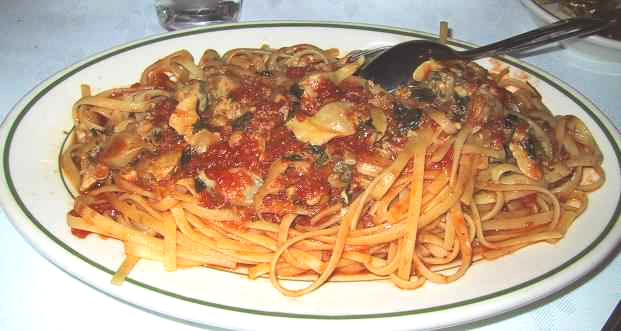 Ingredients
Uncooked linguine

12 Ounce

Olive oil/Vegetable oil

1⁄4 Cup (4 tbs)

Garlic

3 Clove (15 gm)

, finely chopped

Canned whole peeled tomatoes with basil

28 Ounce

, chopped (Progresso®)

Red chili

1 Small

, finely chopped (seeded)

Shucked small clams

1 Pint

(fresh, drained and liquid reserved)

Chopped fresh parsley

1 Tablespoon

Salt

1 Teaspoon
Nutrition Facts
Serving size
Calories 456 Calories from Fat 130
% Daily Value*
Total Fat 16 g24.2%
Saturated Fat 2.3 g11.4%
Trans Fat 0 g
Cholesterol 65.8 mg
Sodium 558.8 mg23.3%
Total Carbohydrates 52 g17.2%
Dietary Fiber 2.2 g8.9%
Sugars 1.1 g
Protein 26 g51.4%
Vitamin A 13.8% Vitamin C 39.3%
Calcium 8.8% Iron 105.4%
*Based on a 2000 Calorie diet
Directions
1. Cook and drain linguine as directed on package.
2. While linguine is cooking, heat oil in 3-quart saucepan over medium-high heat. Cook garlic in oil, stirring frequently, until golden. Stir in tomatoes and chili. Cook 3 minutes, stirring frequently.
3. Stir in clam liquid. Heat to boiling; reduce heat. Simmer uncovered 10 minutes.
4. Chop clams. Stir clams, parsley and salt into tomato mixture. Cover and simmer about 15 minutes, stirring occasionally, until clams are tender. Serve over linguine.