»

Recipes

»

Meatball

»

Lightly Spiced Meatballs In Sauce
Lightly Spiced Meatballs In Sauce Recipe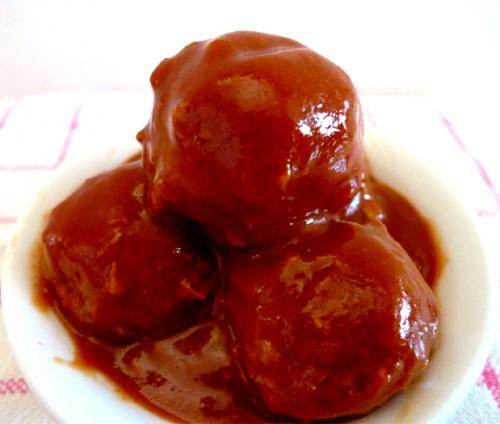 Ingredients
For meatballs

Wholemeal bread

1 1⁄2 Ounce

, with crusts removed (45 Gram)

Parsley

1⁄4 Ounce

(7 Gram)

Onion

3 Ounce

, chopped (90 Gram)

Garlic

1 Clove (5 gm)

, crushed

Coriander seeds/Ground coriander

1 Teaspoon

Lean minced pork

1 Pound

(500 Gram)

Beaten egg

1⁄2

Freshly ground black pepper

To Taste

Oil

2 Cup (32 tbs)

(For Frying)

Butter

1 Ounce

(30 Gram)

Chopped onion

2 Ounce

(60 Gram)

Fresh tomatoes/397 gram/14 ounce can plum tomatoes

1 Pound

, peeled and de-seeded (500 Gram)

Ground turmeric

1⁄2 Teaspoon

Ground cumin

1 1⁄4 Teaspoon

Salt

To Taste

Salt

To Taste
Nutrition Facts
Serving size
Calories 1398 Calories from Fat 1254
% Daily Value*
Total Fat 141 g217.7%
Saturated Fat 26.1 g130.6%
Trans Fat 0 g
Cholesterol 107.4 mg
Sodium 335.1 mg14%
Total Carbohydrates 15 g5%
Dietary Fiber 3.2 g12.6%
Sugars 5.2 g
Protein 21 g42.5%
Vitamin A 26.2% Vitamin C 34.9%
Calcium 7.9% Iron 16.4%
*Based on a 2000 Calorie diet
Directions
Make a paste of the bread, parsley, onion, garlic, salt and coriander seeds in a food processor, stopping to scrape down the mixture from time to time.
Add the pork and process until smoothly mixed but with some texture left.
Turn into a bowl and mix gently with the egg, a little salt and plenty of black pepper from the mill.
With wet hands, form the mixture into 2.5 cm/1 inch balls and let them set in the refrigerator for at least half an hour.
If, however, you are able to leave them for a whole day or overnight, the flavour will be much improved.
Combine the butter, onions and prepared tomatoes and cook over low heat for 1-1 1/2 hours until thick.
You can also used canned tomatoes which have been sieved.
When the sauce is almost cooked, add the spices.
Make a smooth puree of the sauce in a food processor or by putting through a sieve.
Brown the meatballs in a little oil in a large saucepan and cook, turning evenly, for a good 15 minutes until well browned and cooked through.
Drain off any excess oil, add the tomato sauce and cook for another 20-30 minutes to allow the flavours to blend, but do not boil hard.
Serve hot.