»

Recipes

»

Rice

»

Lentils With Rice
Lentils with Rice Recipe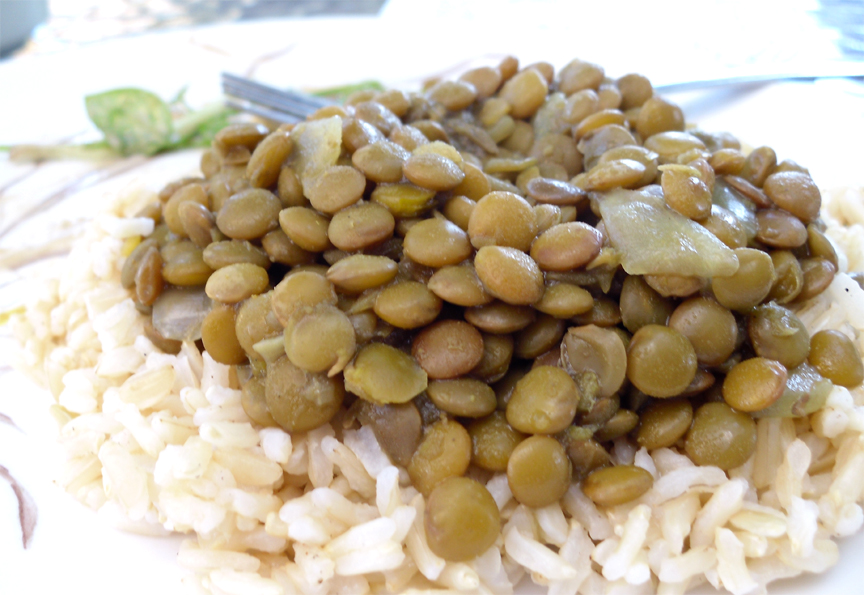 Ingredients
Lentils

1 Cup (16 tbs)

, washed

Water

3 1⁄2 Cup (56 tbs)

Salt

1 Teaspoon

Brown rice

1 Cup (16 tbs)

Onion

1 Small

, diced

Onion

1 Large

, cut into wedges

Oil

1 Tablespoon
Nutrition Facts
Serving size
Calories 414 Calories from Fat 49
% Daily Value*
Total Fat 6 g8.6%
Saturated Fat 0.86 g4.3%
Trans Fat 0 g
Cholesterol 0 mg
Sodium 493.6 mg20.6%
Total Carbohydrates 74 g24.7%
Dietary Fiber 18.1 g72.2%
Sugars 5.6 g
Protein 17 g34.1%
Vitamin A 0.4% Vitamin C 16.9%
Calcium 6.7% Iron 26%
*Based on a 2000 Calorie diet
Directions
MAKING
1) Take a saucepan and add water to it. Add lentils and salt. Cover and boil for about 10 minutes.
2) Wash the rice and add it to lentils along with onion, stir to mix well.
3) Cover and cook over low heat for about 45 more minutes or longer.
4) Take a pan and heat oil in it. Saute onion wedges in the oil until golden brown in color.


SERVING
5) Spoon out lentils and rice onto a serving platter.