»

Recipes

»

Soup

»

Lentil Soup With Spinach
Lentil Soup with Spinach Recipe
Lentil Soup with Spinach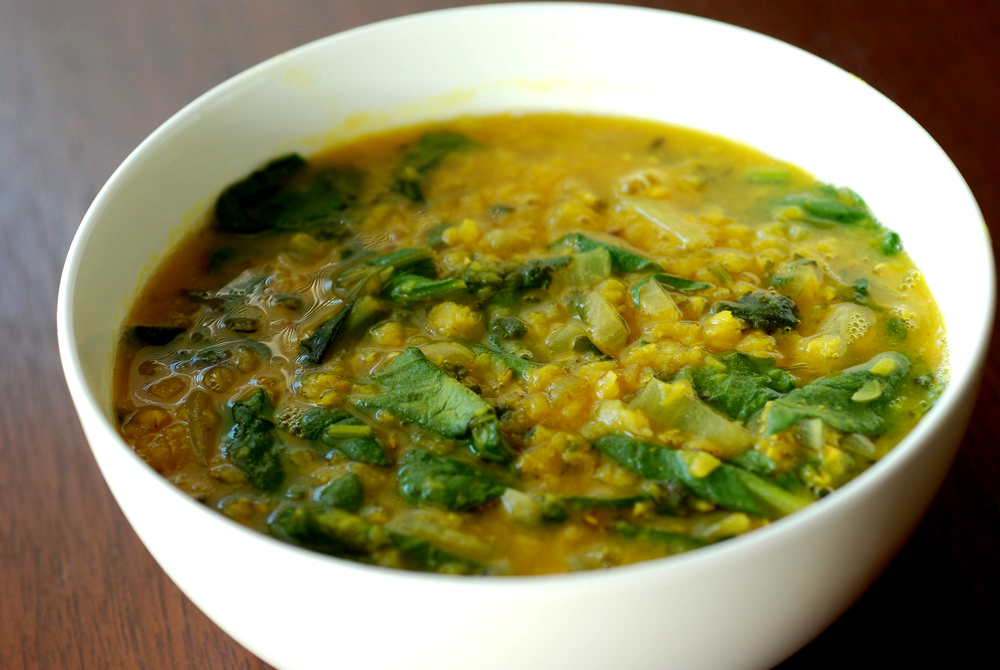 Ingredients
Lentils

12 Ounce

, soaked for 2 hours in cold water (350 Gram, Large Green / Brown Dried)

Onions

8 Ounce

, chopped (250 Gram)

Leek

1 Medium

, cleaned and chopped

Olive oil

3 Tablespoon

Carrots

8 Ounce

, diced (250 Gram)

Waxy potatoes

10 Ounce

, washed and diced (300 Gram)

Garlic cloves

1 1⁄2 Ounce

, sliced (40 Gram / 7 Pieces)

Flat leaf parsley

4 Ounce

, finely chopped (100 Gram)

Bay leaves

2

Garlic

1 Clove (5 gm)

Thyme

1 Tablespoon

(Mountain Variety)

Oregano

1 Teaspoon

Freshly ground black pepper

1 Teaspoon

Salt

To Taste

Spinach

2 Pound

, thick stalks removed and washed (1 Kilogram)

Fresh basil leaves

1 1⁄2 Ounce

, chopped (40 Gram)
Nutrition Facts
Serving size
Calories 415 Calories from Fat 82
% Daily Value*
Total Fat 9 g14.4%
Saturated Fat 1.4 g6.8%
Trans Fat 0 g
Cholesterol 0 mg
Sodium 237 mg9.9%
Total Carbohydrates 66 g21.9%
Dietary Fiber 25.8 g103.3%
Sugars 7 g
Protein 23 g45.5%
Vitamin A 463.6% Vitamin C 160.9%
Calcium 30.9% Iron 68.5%
*Based on a 2000 Calorie diet
Directions
In a large pot, about 7 litres (12 pt) capacity, fry the chopped onions and leek in the olive oil over low heat until transparent.
Add the carrots, potatoes, garlic, parsley, bay leaves, clove, thyme and oregano, and sprinkle with pepper.
Stir over a medium-high heat for a few minutes.
Drain and rinse the lentils.
Stir them into the vegetables and add 3 litres (5 pt) water.
Simmer until the lentils are soft - about 40-45 minutes.
Please don't add salt until the end, or the lentils will take much longer to cook.
In fact, they may never soften.
Add the salt, chop the spinach and stir it in, with half the chopped basil.
Serve as soon as the spinach has wilted.
The extra basil is for sprinkling on top at table.