»

Recipes

»

Soup

»

Lentil Soup Supreme
Lentil Soup Supreme Recipe
Lentil Soup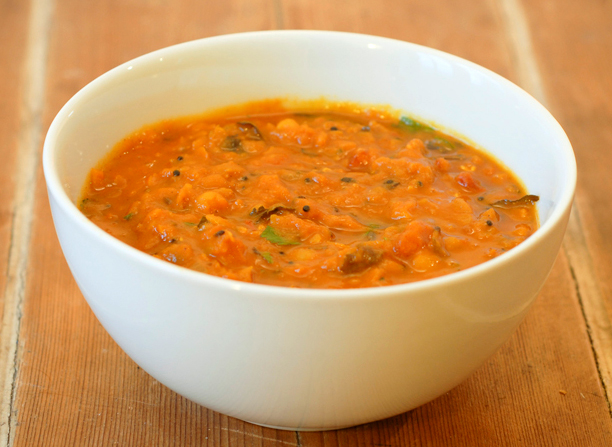 Ingredients
Onions

1 1⁄2 Cup (24 tbs)

, chopped

Celery

1 1⁄2 Cup (24 tbs)

, chopped

Garlic

6 Clove (30 gm)

Olive oil

2 Tablespoon

Canned tomatoes

84 Ounce

(3 Cans, 28 Ounces Each)

Pepper

1⁄2 Teaspoon

Oregano

1 1⁄2 Teaspoon

Water

12 Cup (192 tbs)

Beef bouillon cube

12

Lentils

16 Ounce

, washed (1 Package)

Parmesan cheese

4 Tablespoon

, freshly grated (As Needed)
Directions
GETTING READY
1) Using a slotted ladle remove the chop tomatoes, reserving liquid.
2) In a stockpot, heat olive oil and sauté onions, celery, and garlic for 5 minutes until tender.
3) Stir in the tomato liquid, tomatoes, pepper, and oregano to the stockpot.
4) Lower the heat and simmer the tomatoes mixture for 5 minutes.

FINALIZING
5) Stream in the water along with bouillon cubes, and lentils.
6) Put the lid on and simmer for 40 minutes.
7) Serve the Lentil Soup Supreme in the soup bowl.

SERVING
8) Dredge the Parmesan cheese on top of each serving.