»

Recipes

»

Soup
Lentil Soup Recipe
Lentil Soup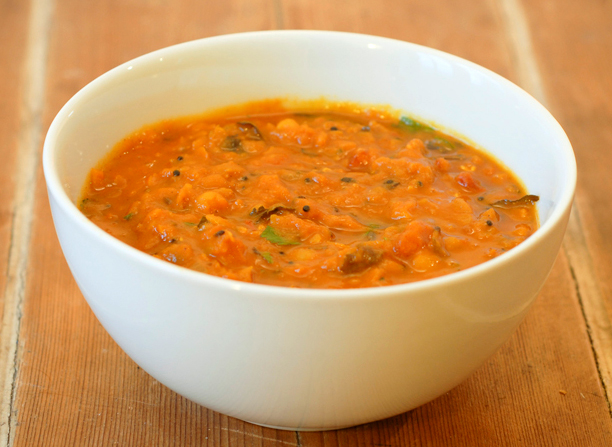 Ingredients
Dried lentils

2 Cup (32 tbs)

Cold water

2 Quart

Bacon

1⁄4 Pound

(In One Piece)

Onion

1 Large

, finely chopped

Carrot

1 Large

, finely chopped

Stalk celery

1

, finely chopped

Bacon fat

2 Tablespoon

Minced onion

1⁄2 Cup (8 tbs)

Flour

2 Tablespoon

Vinegar

2 Tablespoon

Salt

To Taste

Freshly ground pepper

To Taste
Nutrition Facts
Serving size
Calories 410 Calories from Fat 72
% Daily Value*
Total Fat 8 g12.5%
Saturated Fat 2.9 g14.6%
Trans Fat 0 g
Cholesterol 9.7 mg
Sodium 197.9 mg8.2%
Total Carbohydrates 62 g20.6%
Dietary Fiber 21 g84.1%
Sugars 4.2 g
Protein 19 g38.2%
Vitamin A 41.2% Vitamin C 12.7%
Calcium 6.6% Iron 29.3%
*Based on a 2000 Calorie diet
Directions
Wash the lentils under running cold water.
Pour the 2 quarts of water into a large kettle and bring to the boiling point.
Add the lentils, bacon, onion, carrot and celery.
Cover partially and simmer over low heat for 30 minutes.
Heat the bacon fat in a large heavy frying pan.
Add the minced onion and cook, stirring constantly, until the onion is golden brown.
Stir in the flour and cook, stirring all the time, until the flour is golden brown.
Ladle about 1/2 cup of the lentil soup into the frying pan and stir thoroughly until the mixture is smooth and thickened.
Stir in the vinegar.
Turn the whole contents of the frying pan into the lentil soup, scraping the bottom of the skillet with a rubber spatula.
Season with salt and pepper.
Stir thoroughly.
Simmer over low heat covered for 30 more minutes or until the lentils are tender.
Before serving, remove the bacon and serve hot.