»

Recipes

»

Indian
Lentil Curry Recipe
Lentil Curry has a fine taste. Lentil Curry gets its taste from lentils mixed with garam masala and flavored with chili powder. Lentil Curry is inspired by many food joints across the world.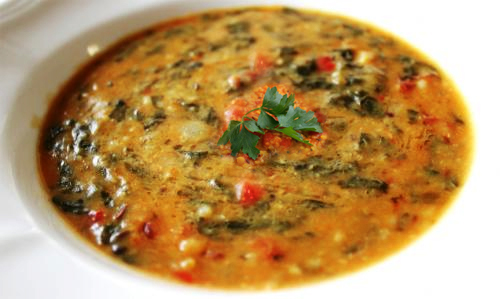 Summary
Difficulty Level
Easy
Cuisine
Indian
Ingredients
Dried red lentils

225 Gram

Butter

100 Gram

Onion

1 Large

, finely chopped

Garlic

2 Clove (10 gm)

, crushed

Ginger root piece

50 Gram

, peeled and chopped

Ground coriander

2 Tablespoon

Garam masala

1 Teaspoon

Chili powder

1 Teaspoon

Cardamom

1 Teaspoon

Tomatoes

400 Gram

, chopped with juice

Tomato puree

75 Gram

Sugar

2 Teaspoon

Water

15 Milliliter

Coriander sprig

2

(For Garnish)
Nutrition Facts
Serving size: Complete recipe
Calories 1986 Calories from Fat 791
% Daily Value*
Total Fat 90 g139%
Saturated Fat 52.2 g261.1%
Trans Fat 0 g
Cholesterol 215 mg
Sodium 282.4 mg11.8%
Total Carbohydrates 238 g79.3%
Dietary Fiber 68.7 g274.8%
Sugars 43.2 g
Protein 75 g149.1%
Vitamin A 161.5% Vitamin C 165.2%
Calcium 57.3% Iron 104.8%
*Based on a 2000 Calorie diet
Directions
Place the lentils and water in a pan and cook, uncovered, over a gentle heat for about 20-25 minutes or until tender.
Heat the butter in a pan over a medium heat, add the onion and fry until golden.
Add the garlic and ginger and fry for a few seconds.
Add the spices and fry for 2 minutes, stirring continuously.
Stir in the tomatoes and tomato puree and fry for a further 2 minutes.
Add the sugar, water and salt to taste and stir well.
Partly cover, and cook the sauce over a gentle heat for about 15 minutes, or until the sauce becomes thick and most of the liquid has evaporated.
Stir the sauce into the lentils and cook for a further 5-10 minutes.
Garnish with fresh coriander and serve.