»

Recipes
Lemon Cheesecake Recipe
Lemon Cheesecake has a Distinctive taste.The Lime Juice and Eggs gives the Lemon Cheesecake Great taste.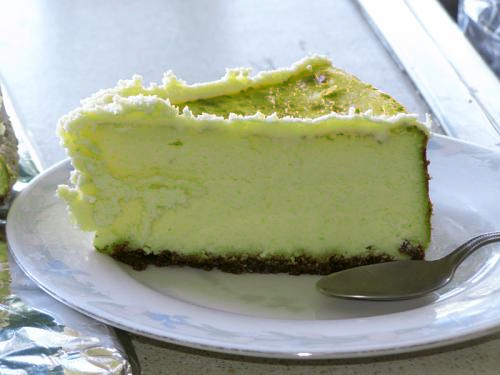 Ingredients
Digestive biscuits

100 Gram

, crushed

Ginger biscuits

100 Gram

, crushed

Melted butter

100 Gram

Yoghurt

1 Kilogram

Powdered sugar

4 Teaspoon

Lemon

1

, juiced

Lemon rind

1

Gelatin

1 Teaspoon

Water

1⁄2 Cup (8 tbs)

Egg

3

Orange sections/Strawberry sections

4
Nutrition Facts
Serving size: Complete recipe
Calories 2720 Calories from Fat 1539
% Daily Value*
Total Fat 172 g264.9%
Saturated Fat 92.8 g463.8%
Trans Fat 0 g
Cholesterol 979.5 mg
Sodium 1802.7 mg75.1%
Total Carbohydrates 237 g78.9%
Dietary Fiber 7 g28.2%
Sugars 139 g
Protein 66 g132.1%
Vitamin A 84.8% Vitamin C 104.3%
Calcium 136.5% Iron 21.1%
*Based on a 2000 Calorie diet
Directions
Mix biscuits with butter.
Spread the biscuit mixture at the bottom of the spring pan and press it down flat with a spoon.
Chill.
FOR THE FILLING : Put the yoghurt in a muslin cloth and hang up for about 2 tioufs to remove some of the whey.
Use this yoghurt.
Mix this yoghurt with sugar, lime juice and rind.
Soak gelatine in water for 5 minutes and dissolve over a pan of hot water.
In a bowl mix in the yoghurt mixture.
Refrigerate until half-set and looks like thick cream.
Then beat the egg whites until stiff and fold into the yoghurt mixture.
Pour the mixture into the spring pan and level it out.
Chill.
When ready to serve, run a knife round the tin and then remove from the tin.
Decorate with any fruit.