»

Recipes

»

Indian

»

Rasam

»

Lemon & Tomato Rasam
Lemon & Tomato Rasam Recipe
Lemon & Tomato Rasam has a lovely taste. Lemon & Tomato Rasam gets its taste from vegetable mixed with rasam powder and chili. Lemon & Tomato Rasam is inspired by many food joints worldwide.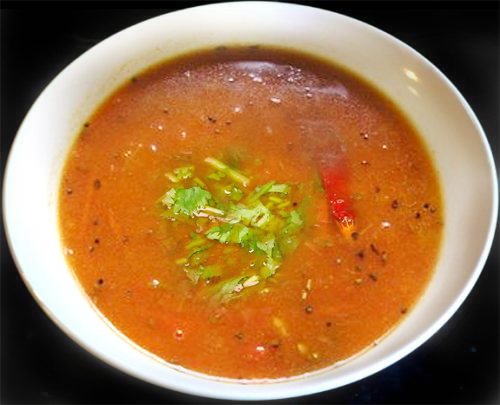 Ingredients
Tomatoes

3

Rasam powder/Sambhar powder

1 Tablespoon

Salt

1 Tablespoon

Mustard

3⁄4 Teaspoon

Gingelly oil

1 Tablespoon

Green chili

1

Lemon

1

Coriander leaves

4

(A Few Strands)
Nutrition Facts
Serving size: Complete recipe
Calories 274 Calories from Fat 150
% Daily Value*
Total Fat 17 g26.2%
Saturated Fat 2.3 g11.6%
Trans Fat 0 g
Cholesterol 0 mg
Sodium 5838.5 mg243.3%
Total Carbohydrates 31 g10.4%
Dietary Fiber 12.1 g48.4%
Sugars 10.5 g
Protein 5 g10.5%
Vitamin A 75% Vitamin C 196.7%
Calcium 10.3% Iron 11.6%
*Based on a 2000 Calorie diet
Directions
Dice each tomato into 4 cubes.
Boil the tomatoes in 3 to 4 glasses of water.
Allow them to boil until the tomatoes soften, the skins give away and start dissolving.
Instead, you may even pressure cook them.
Next, mix rasam/sambhar powder and salt to the steaming tomatoes.
Allow the tomatoes to simmer for some more time.
Heat gingelly oil in a pan.
To it add the mustard seeds.
Once they start crackling, put in the chopped pieces of green chilli.
Then empty the crackled mustard chilli mixture over the boiling rasam.
Allow it to simmer for 5 more minutes.
Squeeze juice of both halves of the cut lemon into the steaming rasam.
Use the coriander leaves to garnish it.
Remove from heat.
Cover the pan with a lid so that the aroma is retained.