»

Recipes

»

Tart
Lemon Tart Recipe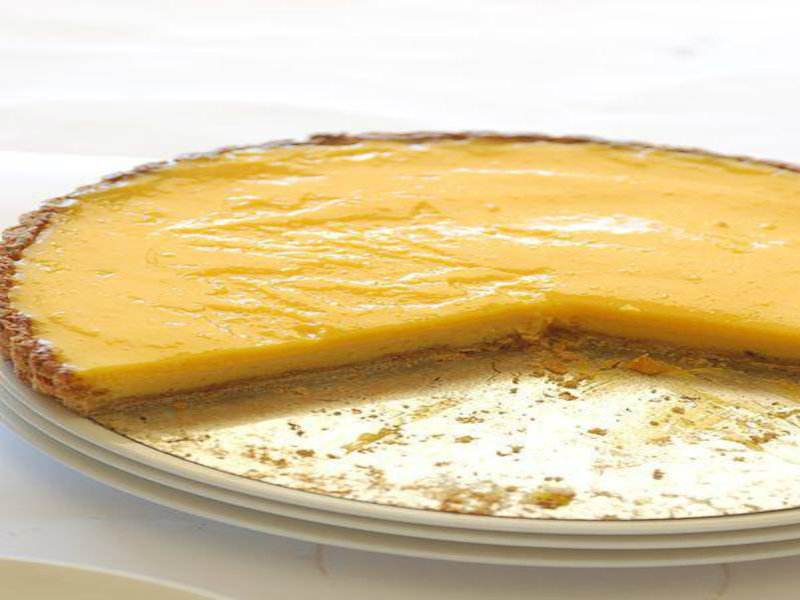 Ingredients
Plain flour

8 Ounce

(250 Gram)

Salt

1 Pinch

Butter

4 Ounce

(125 Gram)

Egg yolk

1

Iced water

3 Tablespoon

For filling

Lemons

3

, rind grated and juiced

Eggs

2

(Plus 1 Egg White)

Egg whites

1

Double cream

3 Fluid Ounce

(75 Milliliter)

Ground almonds

4 Ounce

(125 Gram)

Ground cinnamon

1 1⁄2 Pinch

(A Good Pinch Of)

For topping

Lemons

2

, thinly sliced

Caster sugar

4 Ounce

(125 Gram)
Nutrition Facts
Serving size: Complete recipe
Calories 2947 Calories from Fat 1495
% Daily Value*
Total Fat 168 g259.2%
Saturated Fat 63.8 g318.9%
Trans Fat 0 g
Cholesterol 851.9 mg
Sodium 473.8 mg19.7%
Total Carbohydrates 332 g110.6%
Dietary Fiber 21.4 g85.6%
Sugars 114.8 g
Protein 44 g87.6%
Vitamin A 72.5% Vitamin C 372.2%
Calcium 31.3% Iron 28.9%
*Based on a 2000 Calorie diet
Directions
GETTING READY
1) Preheat the oven to 190°C / 375°F / Gas Mark 5.

MAKING
2) In a bowl, sift the flour and salt together, then rub in the butter until the mixture is crumbly.
3) Stir in the egg yolk and little iced water and prepare a soft dough, then refrigerate for 30 minutes.
4) In a mixing bowl, combine the sugar, lemon rind and juice. Add the egg white and beat well together.
5) Then beat in the cream, cinnamon and ground almonds until the mixture is thick and smooth.
6) On a lightly floured surface, roll out the pastry and line a 25 cm / 10 inch flan tin. Then prick with a fork all over the bottom and spoon in the filling mixture.
7) Bake in the preheated oven for 30 minutes until golden and firm, allow to cool.
8) Place the lemon slices in a little water over a low heat for 10 minutes until tender. Remove and drain the slices, retain about 75 ml of the liquid.
9) Stir in the sugar over a gentle heat until dissolved. Allow to boil, add the lemon slices and rapidly cook until the slices are coated with thick syrup. Remove and keep aside to cool.

SERVING
10) Garnish the tarts with the lemon slices and serve.