»

Recipes

»

Tart
Lemon Tart Recipe
Lemon Tart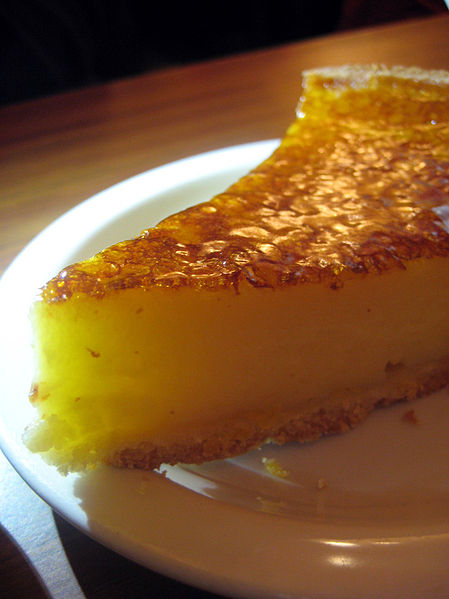 Ingredients
Wheat germ

1 1⁄3 Cup (21.33 tbs)

Butter/Margarine

1⁄3 Cup (5.33 tbs)

, melted

Granulated sugar

6 Tablespoon

Eggs

2

(Separated)

Grated lemon peel

1 Tablespoon

Lemon juice

1⁄3 Cup (5.33 tbs)

Salt

1⁄4 Teaspoon

Envelope of unflavored gelatin

1

Heavy cream/Whipping cream

1⁄2 Cup (8 tbs)
Nutrition Facts
Serving size
Calories 1030 Calories from Fat 570
% Daily Value*
Total Fat 65 g100.1%
Saturated Fat 35.9 g179.5%
Trans Fat 0 g
Cholesterol 374.3 mg
Sodium 372.5 mg15.5%
Total Carbohydrates 96 g32%
Dietary Fiber 11.1 g44.3%
Sugars 51 g
Protein 26 g52.5%
Vitamin A 41.5% Vitamin C 47.9%
Calcium 11.8% Iron 32.3%
*Based on a 2000 Calorie diet
Directions
Preheat oven to 375°F.
In bottom of 9-inch flan pan or pie plate, combine wheat germ, butter and 2 tablespoons sugar.
Spread over bottom and up sides of pan.
Bake for 8 minutes; cool.
In heavy saucepan, combine egg yolks, 1/4 cup sugar, lemon peel, lemon juice, salt; cook, stirring, until thickened.
In 1/2 cup cold water in measuring cup, soften gelatin; stir into lemon mixture; cool slightly.
In medium bowl, beat egg whites until soft peaks form; in small bowl, beat cream until soft peaks form; fold both into lemon mixture.
Pour into prepared crust; refrigerate.