»

Recipes

»

Cookie

»

Lemon Spice Cookies
Lemon Spice Cookies Recipe
Lemon Spice Cookies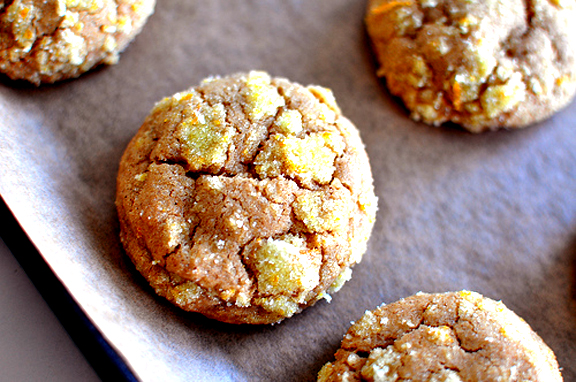 Ingredients
Butter/Margarine / shortening

3⁄4 Cup (12 tbs)

Lemon

1⁄2

, grated

Sugar

1 Cup (16 tbs)

Egg yolks

2

Flour

1 1⁄2 Cup (24 tbs)

, sifted

Egg white

1

Water

1 Tablespoon

Nuts

1 Cup (16 tbs)

, chopped

Sugar

1⁄2 Cup (8 tbs)

Powdered cinnamon

3 Teaspoon

Powdered nutmeg

1⁄4 Teaspoon

Salt

1⁄8 Teaspoon
Nutrition Facts
Serving size: Complete recipe
Calories 4080 Calories from Fat 2011
% Daily Value*
Total Fat 224 g344.7%
Saturated Fat 103 g515%
Trans Fat 0 g
Cholesterol 733 mg
Sodium 840.3 mg35%
Total Carbohydrates 486 g161.9%
Dietary Fiber 24.9 g99.5%
Sugars 306.5 g
Protein 60 g120.8%
Vitamin A 94.1% Vitamin C 38.2%
Calcium 48.7% Iron 61.6%
*Based on a 2000 Calorie diet
Directions
1. Start oven, set at Moderate, 375° F. Rub cookie sheets with margarine or shortening.
2. Cream the butter, margarine or shortening until light.
3. Sprinkle the grated peel over the sugar and gradually add to the creamed mixture, beating until light and creamy.
4. Add the egg yolks, 1 at a time, beating well after each addition. Gradually add the flour, and a little more if necessary to make a stiff dough. Mix thoroughly.
5. Pick up 1 teaspoonful of dough at a time and roll it into a ball. Place them on the cookie sheet. Flatten each ball until very thin.
6. Beat the egg white with the water and brush the surface of the cookies with it.
7. Combine the nuts, sugar, spice and salt and mix thoroughly. Sprinkle each ball with the mixture.
8. Bake about 8 minutes, or until delicately browned.