»

Recipes

»

Salad

»

Lemon Rice Salad With Peanuts
Lemon Rice Salad With Peanuts Recipe
This is the best ever Lemon Rice Salad With Peanuts I have ever tasted! You have landed in the right place. The delicious Indian Lemon Rice Salad With Peanuts is mostly prepared with lemon as the main ingredient. In a fair 1 minutes you can prepare Lemon Rice Salad With Peanuts. I will prepare this Lemon Rice Salad With Peanuts as Main Dish for a get-together I am soon going to host. Not trying out this Lemon Rice Salad With Peanuts after reading about it is one of the biggest crimes you could possibly imagine of committing.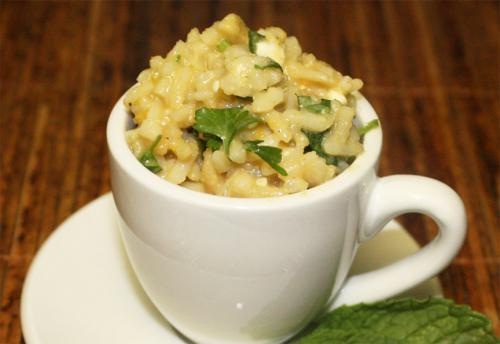 Ingredients
Salt

3 Teaspoon

Rice grain

1 1/2 Cup (16 tbs)

Lemon zest

3/4 Teaspoon

, grated

Lemon juice

3 Tablespoon

Olive oil

6 Tablespoon

1/2 cup minced fresh parsley leaves

3 scallions, sliced thin

1/2 cup unsalted dry-roasted peanuts, chopped coarse
Directions
In a large saucepan bring 4 quarts water to a boil with the salt.
Sprinkle in the rice, stirring until the water returns to a boil, and boil it for 10 minutes.
In a large colander drain the rice and rinse it.
Set the colander over another large saucepan of boiling water and steam the rice, covered with a kitchen towel and the lid, for 15 minutes, or until it is fluffy and dry.
In a small bowl whisk together the zest, the lemon juice, the oil, and salt and pepper to taste.
In a serving bowl combine well the rice, the parsley, the scallions, the peanuts, and the lemon dressing.
The rice salad may be made 3 hours in advance and kept covered and chilled.