»

Recipes

»

Cake

»

Lemon Poppy Seed Pound Cake
Lemon Poppy seed Pound Cake Recipe
This Lemon Poppy seed Pound Cake tastes incredible ! Try this delicious citrus bake for dessert and let me know if you like it ! Your suggestions for this Lemon Poppy seed Pound Cake are welcome !
Poppy Seed Pound Cake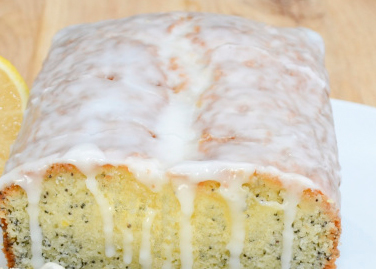 Ingredients
All purpose flour

2 Cup (32 tbs)

Poppy seeds

2 Tablespoon

Baking powder

1⁄2 Teaspoon

Baking soda

1⁄4 Teaspoon

Salt

1⁄4 Teaspoon

Lemons

2 Large

Margarine/Butter

3⁄4 Cup (12 tbs)

, softened

Sugar

1 83⁄100 Cup (29.28 tbs)

(1.5 Cups Plus 1/3 Cup)

Eggs

4 Large

Vanilla extract

1 Teaspoon

Sour cream

1⁄2 Cup (8 tbs)
Nutrition Facts
Serving size: Complete recipe
Calories 4202 Calories from Fat 1668
% Daily Value*
Total Fat 188 g290%
Saturated Fat 44.4 g222%
Trans Fat 0 g
Cholesterol 905.7 mg
Sodium 1459.7 mg60.8%
Total Carbohydrates 591 g197%
Dietary Fiber 20.5 g82%
Sugars 373.4 g
Protein 61 g122.3%
Vitamin A 150.2% Vitamin C 218.1%
Calcium 99.7% Iron 110.5%
*Based on a 2000 Calorie diet
Directions
Preheat oven to 325°F.
Grease and flour 9" by 5" metal loaf pan.
In medium bowl, combine first 5 ingredients.
Grate 1 tablespoon peel and squeeze 3 tablespoons juice from lemons.
In large bowl, with mixer at low speed, beat margarine or butter with 1 1/2 cups sugar until blended.
At high speed, beat until light, about 5 minutes.
Add eggs, 1 at a time, beating well after each addition.
Beat in lemon peel and vanilla.
At low speed, alternately add flour mixture and sour cream, beginning and ending with flour mixture.
Spoon batter into pan and bake 1 hour 20 minutes or until toothpick inserted in center of cake comes out clean.
Cool cake in pan on wire rack 10 minutes.
Remove from pan.
Mix lemon juice and 1/3 cup sugar; brush over top and sides of warm cake.
Cool completely.