»

Recipes

»

Cookie

»

Meringue

»

Easy Lemon Meringue Pie
Easy Lemon Meringue Pie Recipe
Mums lemon meringue pie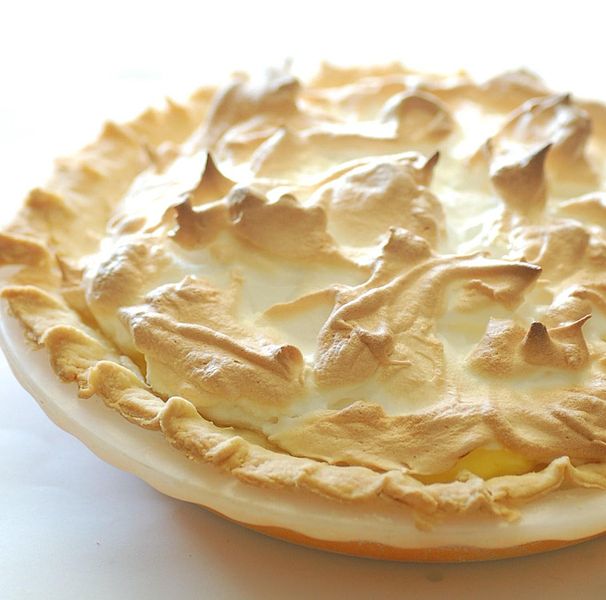 Ingredients
Sugar

1 Cup (16 tbs)

Butter

1 Tablespoon

Flour

1⁄4 Cup (4 tbs)

Lemon juice

1⁄4 Cup (4 tbs)

Cream of tartar

1⁄4 Teaspoon

Water

2 Cup (32 tbs)

Egg whites

3

Egg yolks

3

, beaten

Cornstarch

3 Tablespoon

Sugar

6 Tablespoon

Salt

1 Dash

Lemon rind

1

, grated

Pastry

1

(For A 1 Crust Pie)
Nutrition Facts
Serving size: Complete recipe
Calories 1959 Calories from Fat 343
% Daily Value*
Total Fat 38 g59%
Saturated Fat 14.1 g70.3%
Trans Fat 0 g
Cholesterol 587.5 mg
Sodium 355.5 mg14.8%
Total Carbohydrates 385 g128.2%
Dietary Fiber 4.6 g18.2%
Sugars 302.6 g
Protein 24 g48.9%
Vitamin A 20.8% Vitamin C 68.3%
Calcium 9.4% Iron 17.4%
*Based on a 2000 Calorie diet
Directions
Prepare pastry, line a 9 inch pie pan, and bake in a preheated 450° oven for 12 to 15 minutes.
Cool.
Mix sugar, salt, flour, and cornstarch in a saucepan, stir in water, a little at a time, and cook over a low heat, stirring constantly, until mixture is thick and bubbly.
Stir a little into egg yolks, very gradually, continuing to beat hard.
Combine with the hot mixture and cook over a very low heat for about 2 minutes.
Remove from heat and stir in butter, lemon rind, and juice.
Cool for about 10 minutes, then pour into baked pastry shell, and cool completely.
Pile the meringue on the cool lemon filling, spreading it until it touches rim of pastry all around the edge.
Bake in a preheated 425° oven for 5 to 7 minutes or until top is lightly browned.
To make meringue: Beat egg whites until frothy, then add cream of tartar, and continue beating until whites hold a soft shape.
Beat in the sugar, a little at a time, beating vigorously until meringue is satiny and stiff enough to stand in peaks.