»

Recipes

»

Italian

»

Neapolitan Leg Of Lamb
Neapolitan Leg Of Lamb Recipe
Neapolitan Leg Of Lamb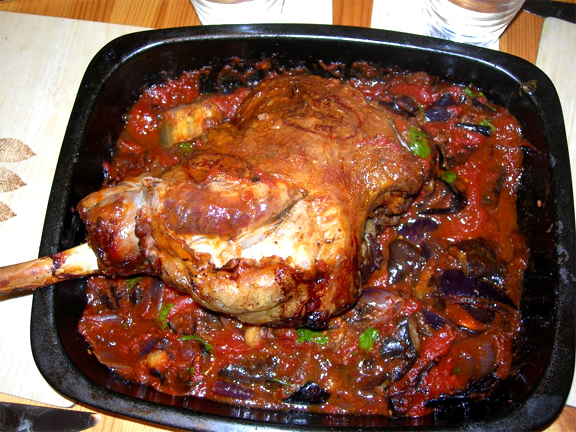 Ingredients
1 5-lb. leg of lamb

Salt

2 Teaspoon

Oregano

1 Teaspoon

Green pepper

1 Medium

, chopped

Onions

4 Medium

, chopped

Garlic

1 Clove (5gm)

, crushed

1 Ige. can tomatoes
Directions
Sprinkle lamb with salt and oregano; place on rack in shallow roasting pan.
Bake at 325 degrees for 1 hour and 30 minutes; drain off drippings.
Combine green pepper, onions, garlic and tomatoes; baste lamb with small amount of tomato mixture.
Bake for 1 hour longer or to 175 degrees on meat ther- mometer, basting occasionally.
Thin sauce with small amount of water, if necessary.
Serve lamb with sauce.