»

Recipes

»

Sauce

»

Leg Of Lamb With Plum Sauce
Leg Of Lamb With Plum Sauce Recipe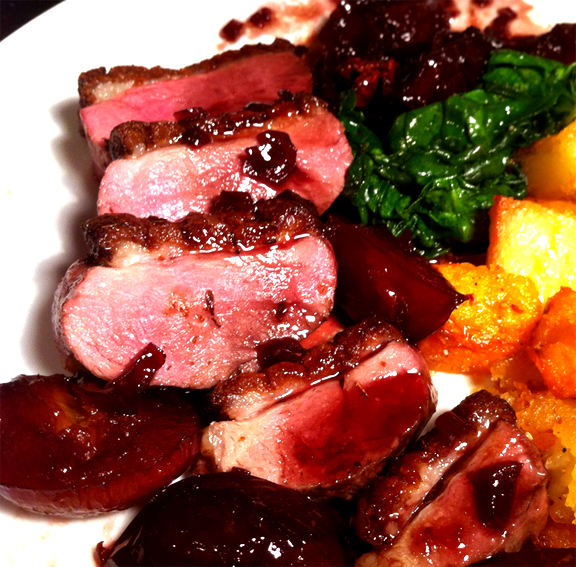 Ingredients
Leg lamb

3 Pound

(1.5 Kilogram)

Freshly ground black pepper

To Taste

Red wine

8 Fluid Ounce

(250 Milliliter)

Onion

1

, chopped

Plums

16

, halved and stoned

Allspice

1⁄4 Teaspoon

Red wine vinegar

1 Tablespoon
Nutrition Facts
Serving size: Complete recipe
Calories 3493 Calories from Fat 1683
% Daily Value*
Total Fat 187 g287.4%
Saturated Fat 79.2 g396.1%
Trans Fat 0 g
Cholesterol 911.7 mg
Sodium 783.8 mg32.7%
Total Carbohydrates 142 g47.2%
Dietary Fiber 17.7 g70.6%
Sugars 110.6 g
Protein 262 g524.1%
Vitamin A 73.1% Vitamin C 185.4%
Calcium 21.7% Iron 143.3%
*Based on a 2000 Calorie diet
Directions
1. Preheat oven to 180°C (350°F/ Gas 4). Put lamb in a roasting tin, season with pepper and baste with red wine. Roast for 1 1/2-2 hours, opting for shorter time if you like your lamb 'pink'. Halfway through cooking time add onion and plums to tin. Baste occasionally.
2. When meat is cooked, transfer it to a hot dish and stand it under a foil tent for at least 15 minutes before carving.
3. Strain contents of roasting tin through a sieve into a large jug. Force solids through sieve into a saucepan. Skim fat from liquid in jug; stir liquid into pan. If necessary, boil sauce to reduce it. Add allspice and vinegar and pour into a sauceboat.
4. Carve the meat onto a platter and serve with the plum sauce.