»

Recipes

»

French

»

Gratin

»

Leeks Au Gratin
Leeks Au Gratin Recipe
Leeks Au Gratin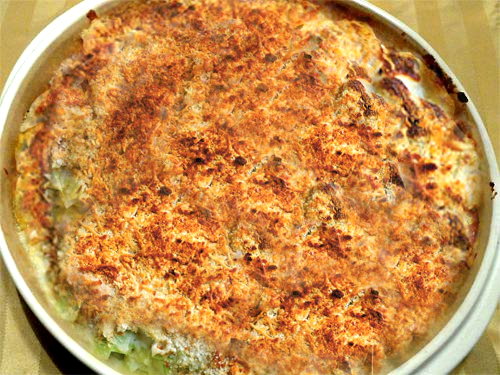 Ingredients
Leeks

2

Onion

1 Small

, chopped

Garlic

3 Clove (15 gm)

, chopped

Stalk celery

1

Chicken broth

1 1⁄4 Cup (20 tbs)

Dry mustard

1⁄2 Teaspoon

Cornstarch

1⁄4 Cup (4 tbs)

Evaporated milk

1⁄2 Cup (8 tbs)

Shredded cheddar cheese

1 Cup (16 tbs)

Salt

To Taste

Pepper

To Taste
Nutrition Facts
Serving size: Complete recipe
Calories 1073 Calories from Fat 420
% Daily Value*
Total Fat 48 g73.2%
Saturated Fat 30.3 g151.6%
Trans Fat 0 g
Cholesterol 158.2 mg
Sodium 2127.3 mg88.6%
Total Carbohydrates 117 g39.1%
Dietary Fiber 9.9 g39.7%
Sugars 34.3 g
Protein 43 g85%
Vitamin A 162% Vitamin C 101.1%
Calcium 142.7% Iron 47.9%
*Based on a 2000 Calorie diet
Directions
GETTING READY
1.Chop the hard leaves from leeks.
2.Cut them lengthwise and rinse well to get rid of any impurity.
3.Chop the white part of leeks into thin slices.
MAKING
3.In a slow cooker, add striped leaks, onion, garlic, celery, broth and mustard.
4.Place the slow cooker on HIGH with its lid on.Cook the ingredients for 6-7 hrs.
5.In a bowl, make a solution of cornstarch and milk.
6.Add it ito the slow cooker and also put cheese in the cooker.
7.Cover the cooker and put it on HIGH heat and let the dish cook for another 15 minutes.
SERVING
8.Serve hot in a tray.