»

Recipes

»

French

»

Gratin

»

Leeks Au Gratin
Leeks Au Gratin Recipe
Leeks Au Gratin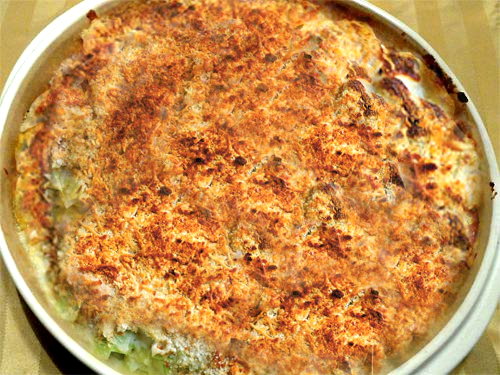 Ingredients
Leeks

2 Pound

Butter/Margarine

2 Tablespoon

All purpose flour

2 Tablespoon

Half and half/Light cream

1⁄2 Cup (8 tbs)

Regular strength chicken broth

1⁄2 Cup (8 tbs)

Ground nutmeg

1⁄4 Teaspoon

Shredded swiss cheese

4 Ounce

(1 Cup)

Crushed seasoned croutons

3 Tablespoon
Nutrition Facts
Serving size: Complete recipe
Calories 1687 Calories from Fat 715
% Daily Value*
Total Fat 81 g125.4%
Saturated Fat 47.3 g236.6%
Trans Fat 0 g
Cholesterol 216.8 mg
Sodium 1311.5 mg54.6%
Total Carbohydrates 192 g64.1%
Dietary Fiber 19.6 g78.6%
Sugars 40 g
Protein 57 g113.1%
Vitamin A 345.2% Vitamin C 183.3%
Calcium 161.7% Iron 122.6%
*Based on a 2000 Calorie diet
Directions
Prepare leeks for cooking whole.
Divide into 2 portions and tie each into a bunch, securing it with string near both ends.
Boil or steam.
Drain well and snip off string; arrange leeks in a shallow baking dish.
Set aside.
Melt butter in a small pan over medium heat.
Add flour and cook, stirring, until bubbly.
Gradually stir in half-and-half and broth.
Cook, stirring constantly, until sauce boils and thickens.
Blend in nutmeg and 3/4 cup of the cheese; stir until cheese is melted.
Pour sauce evenly over leeks, then top with remaining 1/4 cup cheese and croutons.
Bake, uncovered, in a 375° oven until heated through and lightly browned (15 to 20 minutes).