»

Recipes

»

Lebanese

»

Lebanese Cake
Lebanese Cake Recipe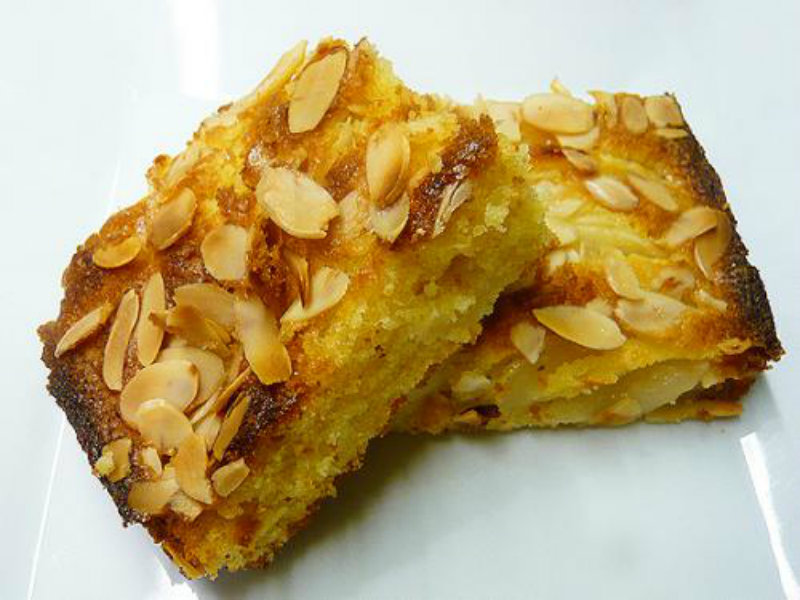 Ingredients
| | | |
| --- | --- | --- |
| | Semolina | 1 1⁄2 Cup (24 tbs) |
| | Plain flour | 1⁄2 Cup (8 tbs) |
| | Turmeric powder | 1⁄2 Teaspoon |
| | Baking powder | 1 1⁄2 Teaspoon |
| | Sugar | 1 Cup (16 tbs) |
| | Milk | 1 Cup (16 tbs) |
| | Oil | 1⁄2 Cup (8 tbs) |
| | Pine nuts | 1 Tablespoon |
Nutrition Facts
Serving size: Complete recipe
Calories 3212 Calories from Fat 1197
% Daily Value*
Total Fat 136 g209.3%
Saturated Fat 20.6 g102.9%
Trans Fat 0 g
Cholesterol 22.6 mg
Sodium 686.1 mg28.6%
Total Carbohydrates 460 g153.3%
Dietary Fiber 12.7 g50.7%
Sugars 212.4 g
Protein 46 g91.5%
Vitamin A 4.7% Vitamin C 1.3%
Calcium 86.7% Iron 34.1%
*Based on a 2000 Calorie diet
Directions
Grease a 7" baking tin.
Mix together semolina, flour, turmeric and baking powder in a bowl.
Set aside.
Preheat oven to 180°C/350°F Grease a 7" baking tin.
In a big bowl combine milk and sugar.
Stir until sugar is dissolved.
Add flour mixture & oil to the milk.
Beat with an electric beater at medium speed for about 5 minutes.
Pour the batter into the prepared baking tin.
Sprinkle pinenuts on top.
Bake for 40 minutes, or until a wooden pick inserted in centre comes out clean.
Let it cool in the oven for 5 minutes.
Take out on a wire rack.
Garsnish with powdered sugar and candied orange peel.

Anonymous says :
should the baking tin have a hole in the middle?
Posted on:
14 January 2012 - 12:04pm
You mean a Bundt/tube pan or a ring mold? Yes you can use that as well if you like. The cake looks prettier. However if you do not have that you can use a regular round cake tin as well. Make sure to grease the pan very well so that you can unmold the cake.
Posted on:
16 January 2012 - 5:30am