»

Recipes

»

Lasagna

»

Tasty Lasagna
Tasty Lasagna Recipe
Lasagna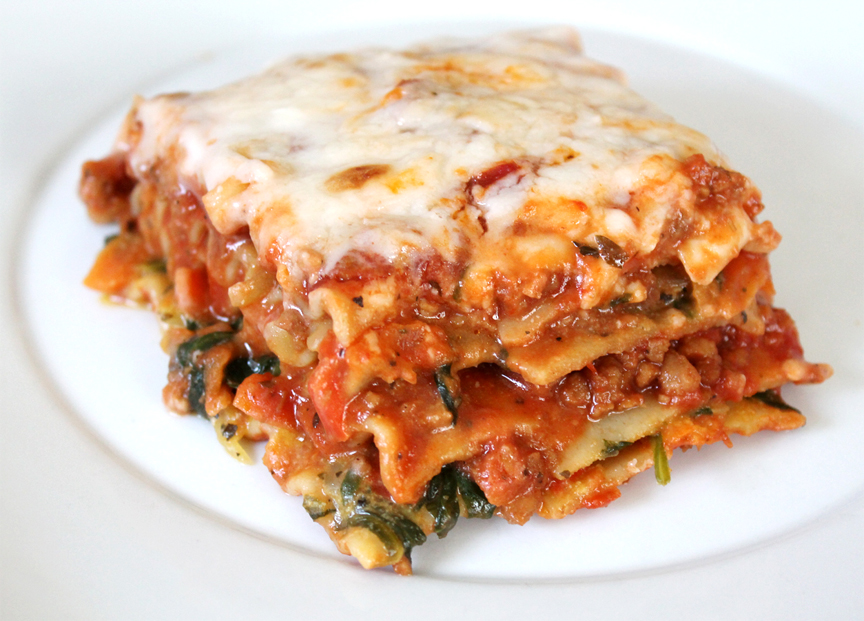 Ingredients
Lasagna

1⁄2 Pound

(225 Gram)

Fresh ricotta cheese

1⁄2 Pound

(225 Gram)

Egg

1

Grated parmesan cheese

4 Ounce

(100 Gram)

For the meat sauce

Onion

1 Large

Garlic

1 Clove (5 gm)

Oil

2 Tablespoon

Lean beef

1 Pound

, minced (450 Gram)

Salt

To Taste

Pepper

To Taste

, freshly milled

Canned tomatoes

15 Ounce

(1 Can, 425 Gram)

Tomato puree

2 Tablespoon

Stock

1⁄4 Pint

(1.5 Deciliter)
Nutrition Facts
Serving size
Calories 749 Calories from Fat 293
% Daily Value*
Total Fat 33 g50.8%
Saturated Fat 14.1 g70.4%
Trans Fat 0 g
Cholesterol 154.7 mg
Sodium 855 mg35.6%
Total Carbohydrates 59 g19.7%
Dietary Fiber 5.5 g22.1%
Sugars 5.2 g
Protein 55 g110%
Vitamin A 24.5% Vitamin C 27.9%
Calcium 52.9% Iron 29.1%
*Based on a 2000 Calorie diet
Directions
GETTING READY
1. Peel onion and garlic; chop finely.
2. Preheat oven to 350° F.

MAKING
3. In a large saucepan, heat oil.
4. Stir in onion; cover and cook gently for about 5 minutes until the onion is soft.
5. Stir in garlic and beef and fry for another few minutes until the meat is well browned.
6. Season with salt and pepper.
7. Add all the tomatoes along with the juices from the tin, tomato puree and the stock.
8. Bring the mixture to a boil and then reduce the heat to low; cover and simmer gently for about 1 1/2 hours until the sauce is thick enough.
9. When the sauce is ready, remove from heat and taste for seasoning; adjust as required.
10. In a pan of boiling salted water, add lasagna and boil uncovered for about 15-20 minutes until tender.
11. Immediately drain in a colander and separate the pieces.
12. In a bowl, mix together ricotta cheese and egg (sieved cottage cheese may be used instead of ricotta cheese).
13. Keep the Parmesan cheese ready for putting up the dish.

FINALISING
14. In the bottom of a large shallow baking dish, spoon a little of the meat sauce and spread all over the bottom.
15. Top with a layer of lasagne.
16. Next, spread a layer of ricotta cheese and sprinkle with Parmesan cheese.
17. Repeat layering in the same sequence and end with a layer of sauce and sprinkle with the remaining Parmesan cheese on top.
18. Place the baking dish in preheated oven and bake for 30-40 minutes until bubbling hot and browned.

SERVING
19. Allow the dish to stand for 5 minutes after cooking.
20. Serve with a tossed salad.