»

Recipes

»

Lasagna

»

Lasagne
Lasagne Recipe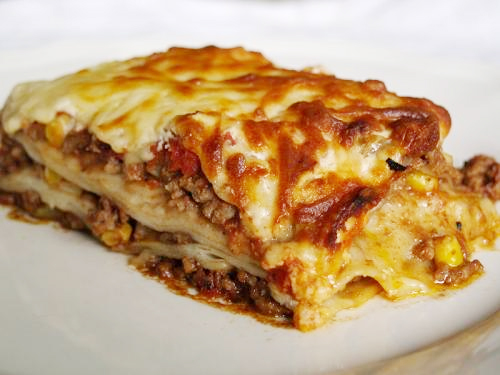 Ingredients
Lasagna

12 Ounce

(350 Grams)

Fresh spinach

3 Pound

(4 Kilograms)

Mozzarella cheese

6 Ounce

, thinly sliced (175 Grams)

Grated parmesan cheese

4 Ounce

(125 Grams)

For the sauce

Butter/Margarine

1 1⁄2 Ounce

Finely chopped onion

1

Garlic

1 Clove (5 gm)

, crushed

Green pepper

1

, cored seeded and chopped

Minced beef

8 Ounce

(225 Grams)

Tinned tomatoes

28 Ounce

(2 Tins Of 14 Ounce Or 400 Grams Each)

Tomato puree

4 Tablespoon

Paprika pepper

1 Teaspoon

Salt

To Taste

(A Little)

Pepper

To Taste
Nutrition Facts
Serving size
Calories 909 Calories from Fat 329
% Daily Value*
Total Fat 37 g57.1%
Saturated Fat 19.3 g96.7%
Trans Fat 0.4 g
Cholesterol 116.6 mg
Sodium 1377.1 mg57.4%
Total Carbohydrates 96 g32.1%
Dietary Fiber 16.3 g65.1%
Sugars 6.9 g
Protein 58 g115.3%
Vitamin A 696.8% Vitamin C 249%
Calcium 96.2% Iron 87%
*Based on a 2000 Calorie diet
Directions
GETTING READY
1. Wash spinach well and drain.
2. In a medium sauce pan, boil 2 cups water.
3. Add the washed spinach to the boiling water and simmer for 2 minutes.
4. Take sauce pan off the heat and drain the water. Refresh the spinach immediately under tap water. Drain well.
5. Squeeze the water from the spinach and chop. Transfer to a bowl and keep aside to be used later.
6. Grease a baking dish, large enough to fit the lasagna sheets, with butter.
7. Preheat the oven to 350°F,/180°C

MAKING

8. In a large sauce pan, boil salted water to cook lasagna sheets. When water starts boiling, drop in lasagna sheets 2 sheets at a time into the saucepan. Allow the paste sheets to boil for 15 minutes.
9. Drain the pasta and grease with a little oil to prevent them from sticking to each other. Keep aside.
10. To make the sauce for the lasagna, in a saucepan, melt butter over a medium flame.
11. Add the onion and garlic and sauté for 5 minutes.
12. Stir in the minced beef and sauté until it is browned.
13. Stir in the remaining sauce ingredients and bring to a boil.
14. Reduce the heat and simmer the sauce for 30 minutes, stirring occasionally to prevent the sauce from sticking to the pan. Keep sauce aside till ready to layer the lasagna.

FINALIZING
15. To assemble, line the greased baking dish with 1/3 of the lasagna.
16. Top the pasta with half of the chopped spinach.
17. Cover the spinach with half the mozzarella cheese.
18. Spoon half of the prepared sauce to cover the cheese.
19. Sprinkle 1/3 of the Parmesan over the sauce.
20. Repeat layering to form 3 layers of pasta finishing with a generous layer of parmesan cheese as the top layer.
21. Bake the lasagna in the preheated oven for 40 minutes till heated through and the cheese has melted and started to brown.
22. Remove dish from the oven and cool slightly for 5 minutes before serving.

SERVING
23. You can serve the lasagna at the table straight from the dish or you could cut into portions and plate onto individual plates.