»

Recipes

»

Lasagna

»

Lasagna Southern Italian Style
Lasagna Southern Italian Style Recipe
Lasagna Southern Italian Style is an amazingly delicious recipe. An easy to prepare noodle recipe, Lasagna Northern Style is a dish that you will definetely love to share with your friends and family.
Lasagna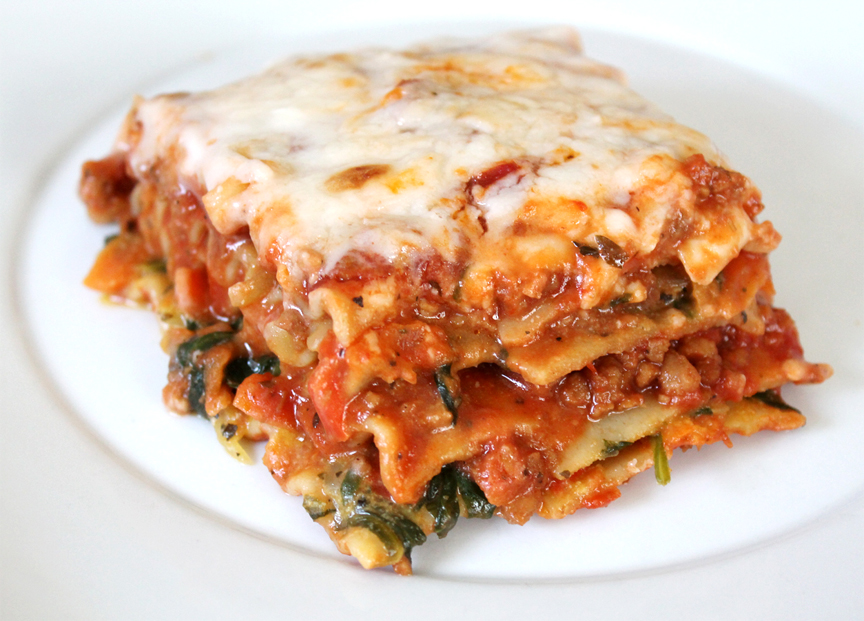 Ingredients
Ground beef

1⁄2 Pound

Ground pork

1⁄2 Pound

Onion

1 Small

, diced

Water

1⁄4 Cup (4 tbs)

Basil

1 Teaspoon

Pepper

1⁄4 Teaspoon

Salt

To Taste

Lasagna noodles

10 1⁄2 Ounce

(2/3 Of 16 Ounce Package)

Mozzarella cheese

16 Ounce

, shredded (1 Package)

Ricotta cheese

16 Ounce

(1 Container)

Eggs

2 Small

Chopped parsley

2 Tablespoon

Butter/Margarine

3 Tablespoon

All purpose flour

3 Tablespoon

Ground nutmeg

1⁄4 Teaspoon

Milk

1 1⁄2 Cup (24 tbs)
Nutrition Facts
Serving size: Complete recipe
Calories 5344 Calories from Fat 2934
% Daily Value*
Total Fat 330 g507.7%
Saturated Fat 169.4 g847.1%
Trans Fat 0 g
Cholesterol 1365.1 mg
Sodium 4181.1 mg174.2%
Total Carbohydrates 301 g100.3%
Dietary Fiber 15.2 g60.7%
Sugars 35.6 g
Protein 298 g595.9%
Vitamin A 194.7% Vitamin C 85.9%
Calcium 378.4% Iron 104.8%
*Based on a 2000 Calorie diet
Directions
1. Prepare meat sauce: In 4-quart saucepan over high heat, cook ground beef, ground pork, and onion, stirring frequently, until all pan juices evaporate and meat is well browned. Add tomatoes with their liquid, tomato paste, water, basil, pepper, and 1 teaspoon salt; heat to boiling, stirring to break up tomatoes. Reduce heat to low; cover and simmer 30 minutes, stirring occasionally. Skim fat from liquid in saucepan.
2. Meanwhile, prepare lasagna noodles as label directs; drain. In medium-sized bowl, mix mozzarella cheese, ricotta cheese, eggs, and parsley; set aside.
3. Prepare white sauce: In 2-quart saucepan over medium heat, melt butter or margarine; stir in flour, nutmeg, and 1/4 teaspoon salt until blended; cook 1 minute. Gradually stir in milk; cook, stirring constantly, until sauce thickens and is smooth; remove from heat.
4. Preheat oven to 375°F. In 13" by 9" baking dish, evenly spoon about 3/4 cup meat sauce. Arrange half of noodles over sauce, overlapping to fit. Spoon half of cheese mixture over noodles; spread with half of white sauce; top with half of remaining meat sauce. Repeat layering with remaining half of noodles, cheese mixture, and sauces.
5. Bake lasagna 45 minutes or until heated through. Remove from oven; let stand 10 minutes for easier serving.

TIP
When heating the milk to make the sauce, you can infuse it with an onion covered with a bay leaf and studded with a clove. This will give your sauce a delicious flavor.

Chuck C says :
Good looking recipe, but one point: if it has mozzarella or ricotta in it, it is not northern-style lasagna. Northern (Bolognese) lasagna traditionally only uses Parmesan and/or Asiago. Southern (Neapolitan or Sicilian) lasagna uses the softer cheeses. Also, try putting a bay leaf in the white sauce when the milk is incorporated: it really makes that part of the dish blossom.
Posted on:
8 November 2011 - 4:30pm
Hi Chuck, thanks a lot for the information. I have renamed the dish as you suggested. And added the tips too. Hope you tried the recipe and liked it, irrespective of the name :)
Posted on:
11 January 2012 - 3:32am