»

Recipes

»

Lamb

»

Lamb Shank
Lamb Shank Recipe
My brother likes this lamb shank recipe. This recipe was given to him by one of her friends. Whenever there is a party in our house, he prepares this dish. All the guests like this dish very much and thank him for preparing it. Which makes my brother very happy. Have a happy moment must try this lamb shank recipe.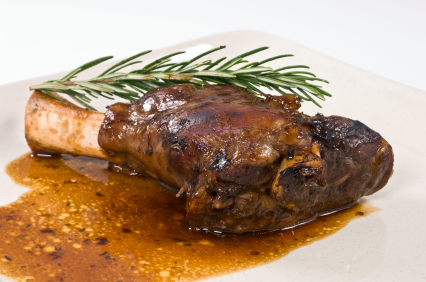 Summary
Preparation Time
5 Min
Cooking Time
1 Hr 50 Min
Ready In
1 Hr 55 Min
Difficulty Level
Easy
Health Index
Average
Servings
3
Ingredients
Lamb shanks

2

Garlic powder

1/4 Teaspoon

Juice of 1 lemon

Dry oregano

1/4 Teaspoon

Wine

1/4 Cup (16 tbs)

Tabasco sauce

1 Teaspoon

Salt

To Taste

Pepper

To Taste
Directions
Stage1-Preheat oven to 325 degrees fareinhite.

Stage2- Use pan with a cover.

Stage3-In pan, salt and pepper lamb shanks, add rest of ingredients,

Stage4- Mix well and place covered pan in oven and cook slowly for 100 minutes, turning meat several times.

Anonymous says :
what wine do you use red or white?
Posted on:
28 June 2011 - 12:18pm

wonderful recipe
Posted on:
12 March 2010 - 8:10pm