»

Recipes

»

Asian

»

Kebab

»

Lamb Shish Kabobs
Lamb Shish Kabobs Recipe
Lamb Shish Kabobs is a wonderfully delicious lamb preparation that will surely entice your taste buds. I served this dish for a get together with my friends at home. They loved it and have been haunting me for this Lamb Shish Kabobs recipe. So here it is!
Shish Kabobs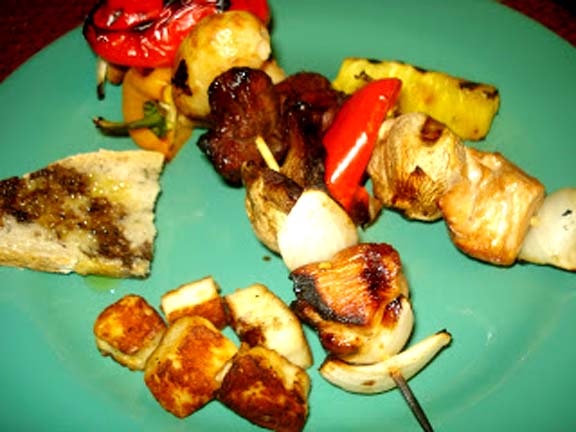 Ingredients
Butter/Margarine

2 Tablespoon

Onion

1 Medium

, chopped

Green pepper

1 Small

, diced

Celery stalk

1 Medium

, diced

Garlic

1 Clove (5 gm)

, minced

Canned tomatoes

8 1⁄4 Ounce

(1 Can)

Tomato paste

6 Ounce

(1 Can)

Water

1⁄4 Cup (4 tbs)

Light brown sugar

2 Tablespoon

Vinegar

1 1⁄2 Teaspoon

Salt

1⁄2 Teaspoon

Hot pepper sauce

1⁄2 Teaspoon

Cracked pepper

1⁄4 Teaspoon

Eggplant

1 Medium

Red peppers

2 Medium

Lamb cubes

2 Pound

(For Kabobs)
Nutrition Facts
Serving size: Complete recipe
Calories 2708 Calories from Fat 1419
% Daily Value*
Total Fat 158 g243.3%
Saturated Fat 78.6 g393%
Trans Fat 0 g
Cholesterol 663.2 mg
Sodium 2044.7 mg85.2%
Total Carbohydrates 142 g47.3%
Dietary Fiber 34.5 g138%
Sugars 81 g
Protein 187 g374.8%
Vitamin A 269.3% Vitamin C 781.1%
Calcium 38.4% Iron 150.9%
*Based on a 2000 Calorie diet
Directions
1. In 2-quart saucepan over medium heat, in hot butter or margarine, cook onion, green pepper, celery, and garlic 10 minutes or until vegetables are tender. Add tomatoes and their liquid and next 7 ingredients; heat to boiling. Reduce heat to low; simmer 5 minutes. Spoon tomato marinade into large bowl; refrigerate until chilled.
2. Meanwhile, cut eggplant lengthwise in half, then crosswise into 1-inch-thick slices. Cut red peppers into 2-inch pieces. When marinade is cool, add lamb, eggplant, and red peppers; mix well. Cover mixture and refrigerate 4 hours or overnight, stirring occasionally.
3. About 1 hour before serving, prepare outdoor grill for barbecuing.
4. Meanwhile, on 4 long skewers, thread lamb cubes alternately with vegetables. Spoon tomato marinade into 2-quart saucepan; cover.
5. Place skewers on grill over medium heat; cook about 30 minutes for medium or until lamb is of desired doneness, turning skewers frequently. Heat tomato marinade on same grill to serve with lamb and vegetables.