»

Recipes

»

Lamb

»

Lamb In Mint Jelly
Lamb In Mint Jelly Recipe
Lamb with Mint Jelly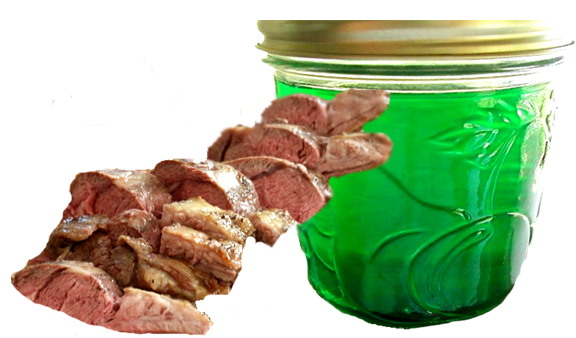 Ingredients
Chopped mint leaves

1⁄2 Cup (8 tbs)

Sugar

2 Tablespoon

White vinegar

4 Tablespoon

Gelatin

2 Tablespoon

Salt

1 Teaspoon

Pepper

1⁄4 Teaspoon

Tomatoes

8 Small

Onions

2 Small

, thinly sliced

Cucumbers

4 Small

, sliced

Diced cooked lamb

3 Cup (48 tbs)

Grated beets

1⁄2 Cup (8 tbs)
Nutrition Facts
Serving size: Complete recipe
Calories 1480 Calories from Fat 618
% Daily Value*
Total Fat 69 g105.7%
Saturated Fat 32.3 g161.7%
Trans Fat 0 g
Cholesterol 304.9 mg
Sodium 2389 mg99.5%
Total Carbohydrates 98 g32.7%
Dietary Fiber 17.3 g69.1%
Sugars 67.5 g
Protein 123 g245.1%
Vitamin A 140.9% Vitamin C 208.6%
Calcium 28.4% Iron 71.7%
*Based on a 2000 Calorie diet
Directions
Chop mint leaves; add 1/2 cup boiling water and sugar.
Let stand for 30 minutes to cool.
Add vinegar to cooled mint mixture.
Soften gelatin in mint mixture; combine gelatin mixture and 1 1/2 cups boiling water.
Stir to dissolve gelatin thoroughly.
Add salt and pepper, blending well; cool to room temperature.
Remove mint leaves.
Arrange tomatoes in large mold.
Dip onions and 1/2 cup cucumbers in gelatin mixture; press to sides of mold.
Arrange layers of lamb alternately with beets and remaining cucumbers; add gelatin mixture to each layer to cover.
Chill in refrigerator overnight; unmold on lettuce.
Garnish with additional tomato and pickles, if desired.