»

Recipes

»

Lamb

»

Lamb Biryani
Lamb Biryani Recipe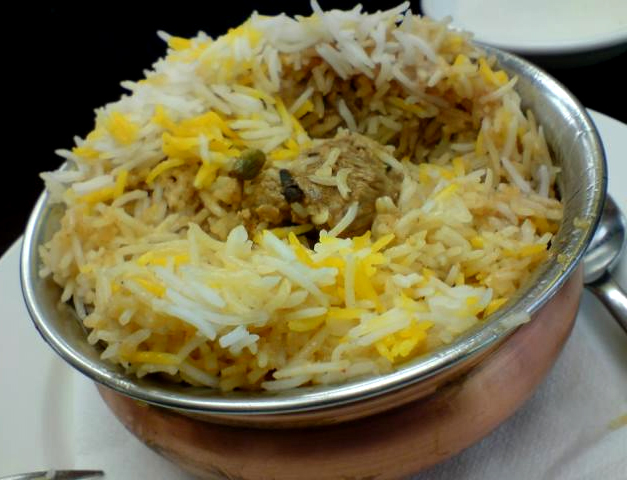 Ingredients
Lean boneless lamb - 1 kg/2 lb, cut into large chuks

Onions

2 Large

, finely chopped

Root ginger

50 Gram

Green cardamoms

4

Cinnamon stick

1

Bay leaf

1

Cloves

2

Ghee

50 Gram

Garlic

4 Clove (5gm)

Turmeric

1/2 Teaspoon

Salt

1 To taste

Ground black pepper

1 To taste

Water

600 Milliliter

Concentrated tomato puree - 2 tablespoons

Long-grain rice - 225 g/8 oz
Directions
GETTING READY
1) Grind the cardamoms, cinnamon, bay leaf and cloves together until powdered.

MAKING
1) In the wok, melt the ghee, fry the meat, turning frequently, until evenly browned on all sides.
2) Remove the lamb with a slotted spoon, then stir in the onion and ginger in the wok.
3) Stir in the garlic, stir frequently and saute, until the onion is tender but not browned.
4) Stir in the ground spices, turmeric, salt and pepper to taste, and cook for a few minutes.
5) Stir in the meat and coat thoroughly in the spice mixture.
6) Then pour in the water and stir in the tomato puree.
7) Bring to a boil, lower the heat and simmer, covered for 30 minutes.
8) Stir the rice and cook over a low heat for another 30 minutes, adding a little more water if needed.

SERVING
9) Serve the Lamb Biryani immediately, straight from the wok or a heated serving dish.
Image Courtesy :
http://www.flickr.com/photos/avlxyz/3618609886/