»

Recipes

»

Lamb

»

Lamb And Potato Casserole
Lamb and Potato Casserole Recipe
Lamb and Potato Casserole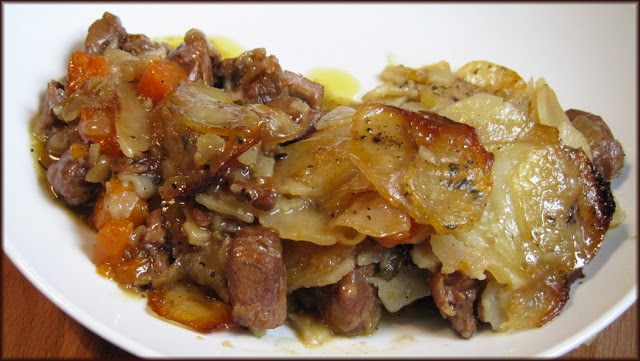 Ingredients
Flour

2 Tablespoon

Loin/8 rib lamb chops

4 Large

Butter/Margarine

4 Tablespoon

Onions

1⁄2 Pound

, peeled

Garlic

1 Clove (5 gm)

, crushed

Tomatoes

4

, peeled and sliced

Rosemary sprig/1/8 teaspoon dried rosemary

2

Potatoes

1 Pound

, peeled

Broth/Water

4 Tablespoon
Directions
GETTING READY
1) Mix the flour together with a bit of salt and pepper. Dregde the chops properly in the mixture.

MAKING
2) In a saute pan, heat 3 tablespoons of butter and brown the coated chops properly on both sides. Remove chops from the pan.
3) To the fat that has been left behind in the pan, add the garlic and onion and cook till the vegetables have softened.
4) In a casserole, arrange the meat, onion, tomatoe, rosemary and potatoes in layers, lightly seasoning each layer and finshing with the potato. Pour in water or broth and dop with the remaining butter.
5) Cover the casserole and cook for nearly 120 minutes, Some 15 minutes before the cooking is to end, take the lid off and let the potatoes to brown.

SERVING
6) Serve hot.