»

Recipes

»

Pizza

»

Lahmajoun
Lahmajoun Recipe
Try this delicious version of Lahmajoun. An easy to prepare non-vegetarian recipe, Lahmajoun is a dish that you would love to talk about with us!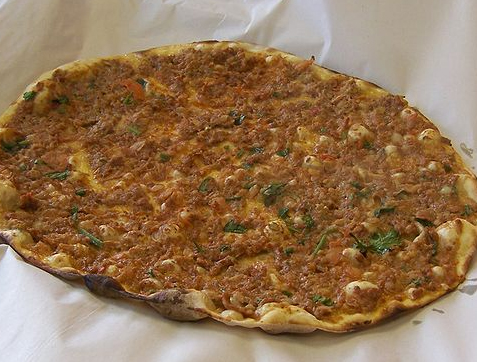 Ingredients
Refrigerated biscuits

8 Ounce

(1 Package)

Beef filling/Lamb filling

1 Cup (16 tbs)
Nutrition Facts
Serving size: Complete recipe
Calories 818 Calories from Fat 310
% Daily Value*
Total Fat 34 g53%
Saturated Fat 9.7 g48.7%
Trans Fat 0 g
Cholesterol 11 mg
Sodium 2844.8 mg118.5%
Total Carbohydrates 107 g35.6%
Dietary Fiber 1.6 g6.4%
Sugars 20.3 g
Protein 22 g44.2%
Vitamin A 0.4% Vitamin C
Calcium 11.6% Iron 31.3%
*Based on a 2000 Calorie diet
Directions
Roll out each biscuit on a lightly floured board to a thin round, about 5 inches in diameter.
Arrange rounds slightly apart on 2 large greased baking sheets.
Divide the filling into 10 portions; spread evenly over the surface of each biscuit. (Be sure to spread the meat clear to the edge of the biscuit, as the meat will shrink while baking.)
Bake in a 450° oven for 10 to 12 minutes, or until meat is cooked and biscuits are crisp.
Image Courtesy :
http://commons.wikimedia.org/wiki/File:Lahmacun_being_served.JPG