»

Recipes

»

Apple

»

Lady Apple Crispy
Lady Apple Crispy Recipe
By Kim Hendrickson, Author of Dessert Canapés: Bite-Sized Sweets for Easy Entertaining
To me, apple crisp means Sunday dinner desserts at my grandmother's when I was a child. I still use her recipe, written in her handwriting on a faded index card. This little version of my favorite dessert results in a much crunchier topping than in the original, but the wonderful honey taste is still there. I hope it helps bring back a favorite memory for you.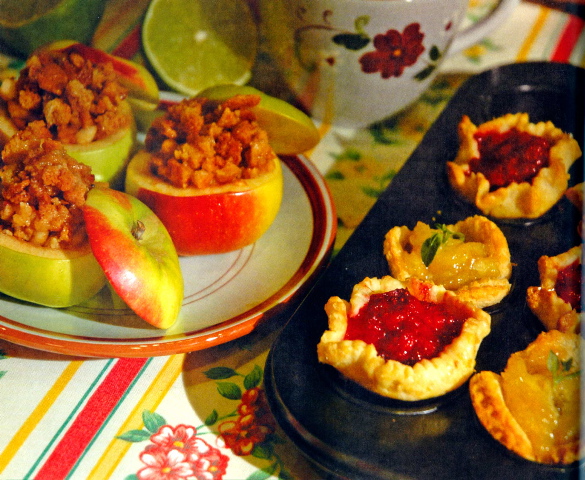 Ingredients
24 lady apples or small round apples about 2-inches in diameter

Quick oats

3/4 Cup (16 tbs)

Brown sugar

3/4 Cup (16 tbs)

, firmly packed

Flour

1/2 Cup (16 tbs)

Salted butter

8 Tablespoon

, cut in to chunks

Vanilla extract

1 Tablespoon

Butter

4 Tablespoon

Brown sugar

4 Tablespoon

Coarsely chopped

4 Cup (16 tbs)

, peeled

Melon baller
Directions
Using a sharp knife, cut the top quarter off each apple and just enough off each base so that apples stand upright. Using a melon baller, scrape out the interior, leaving 1/4 inch on the sides and 1/2 inch on the base (it is important to leave enough walls so the sides remains firm when steamed). Scraps can be used for applesauce.
In a steamer bring 1 inch of water to a boil. Add apples, open side down, 4 or 5 at a time, and steam for no more than 1 1/2 to 2 minutes. You want apples to soften a bit but not collapse. Cool.
Preheat oven to 350°F. To prepare the topping, place oats, brown sugar, and flour in a food processor and pulse several times to combine. Add butter chunks and process until butter is in pea-sized pieces. Add vanilla and pulse once more, making sure the mix remains rough and bumpy. Spread onto a parchment-lined baking sheet and bake, stirring occasionally until topping is lightly browned and resembles granola, about 15 to 18 minutes. Break up any large clusters and set aside to cool.
Melt remaining butter and sugar in a small frying pan. Add apples and sauté until slightly softened, about 6-8 minutes. They should still be a light golden color, not brown.
Mix 1/3 of the topping into the sautéed apples and fill hollowed apples to just below the rim. Sprinkle remaining topping on top and serve at room temperature.
Filled apples can be covered and refrigerated for up to 2 days. Bring to room temperature and add topping before serving.
Tips:
If lady apples are not available, check with your local farm. Most people don't want small apples, so they'll be glad you do.
Twists:
For raw, healthy version, brush carved apples with lemon juice to prevent browning. Mix chopped apple with thick yogurt, almonds or sunflower seeds and honey.
The above is an excerpt from the book Savory Bites: Easy, Sophisticated Hors d'Oeuvres for Every Occasion by Kim Hendrickson. Copyright © 2010 Kim Hendrickson, author of Savory Bites: Easy, Sophisticated Hors d'Oeuvres for Every Occasion. For more information please visit
SalviaPress.Com.