»

Recipes

»

Cookie

»

Lace Cookies
Lace Cookies Recipe
You definitely wouldn't want to miss Lace Cookies. This wonderfully delicious cookies are a favorite addition to my Birthday party menu! What are you waiting for? Save this excellent Lace Cookies recipe.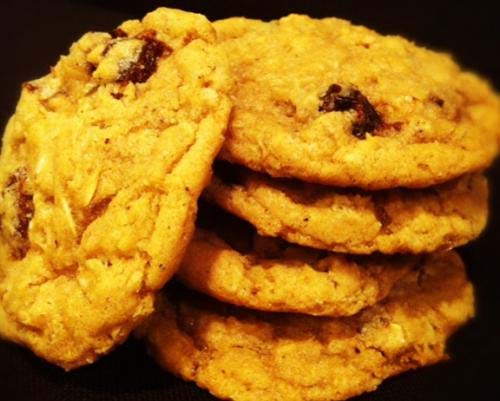 Ingredients
Vegetable shortening

1⁄2 Cup (8 tbs)

All purpose flour

1⁄4 Cup (4 tbs)

Sugar

1⁄3 Cup (5.33 tbs)

Baking powder

1⁄2 Teaspoon

Brown sugar

1⁄3 Cup (5.33 tbs)

Salt

1⁄8 Teaspoon

Egg

1

Rolled oats

1 Cup (16 tbs)

Vanilla

2 Teaspoon

Pecans

1⁄3 Cup (5.33 tbs)

, ground
Nutrition Facts
Serving size: Complete recipe
Calories 2268 Calories from Fat 1268
% Daily Value*
Total Fat 145 g223.4%
Saturated Fat 30.8 g153.9%
Trans Fat 13.5 g
Cholesterol 211.5 mg
Sodium 515.2 mg21.5%
Total Carbohydrates 223 g74.2%
Dietary Fiber 13.9 g55.7%
Sugars 138.5 g
Protein 26 g52%
Vitamin A 5.4% Vitamin C 0.79%
Calcium 28.4% Iron 41.2%
*Based on a 2000 Calorie diet
Directions
Preheat the oven to 325° F.
Line baking sheets with aluminum foil.
Cream the shortening and sugars until light and fluffy.
Add the egg and vanilla.
Beat well.
Sift the flour, baking powder, and salt together.
Add to the mixture.
Mix well.
Add the rolled oats and pecans.
Mix well.
Drop by half teaspoonfuls onto the prepared baking sheets 3 inches apart.
Bake at 325° F for 10 minutes.
Let the cookies cool slightly before peeling them from the foil.