»

Recipes

»

German

»

Konigsberger Klopse
Konigsberger Klopse Recipe
Here I am posting a special Konigsberger Klopse recipe for you. This dish is equally liked by my friends as well, and whenever we meet on weekends we surely try this dish. It really tastes good. If you too want to enjoy the weekend, you can try out this Konigsberger Klopse recipe.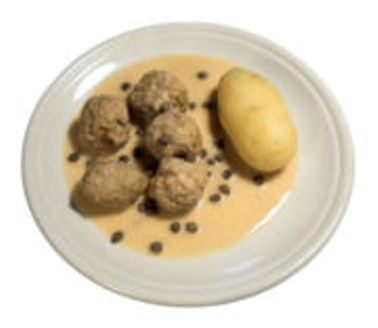 Ingredients
Ground beef

2 Pound

(Of Half Beef And Half Pork)

Bread roll/Bread slice

2

(Soaked In Water)

Eggs

2

Worcestershire sauce

2 Teaspoon

Onion

2

Butter

3 Tablespoon

Flour

3 Tablespoon

Water

200 Milliliter

Lemon slices

4

Capers

2 Teaspoon

Sour cream

4 Tablespoon

Pepper

To Taste

Salt

To Taste
Nutrition Facts
Serving size
Calories 923 Calories from Fat 675
% Daily Value*
Total Fat 75 g115.8%
Saturated Fat 30.3 g151.6%
Trans Fat 0 g
Cholesterol 298 mg
Sodium 398.8 mg16.6%
Total Carbohydrates 21 g7.1%
Dietary Fiber 2 g7.8%
Sugars 4.4 g
Protein 45 g89.2%
Vitamin A 9.9% Vitamin C 18.2%
Calcium 8% Iron 20.2%
*Based on a 2000 Calorie diet
Directions
Stage1-Squeeze water out of bread. Mix all ingredients for meatballs and form into 1 1/2 inch balls.

Stage2-To prepare gravy, add flour to melted butter, stirring constantly. When lumps are completely dissolved, stir in water (amount depends on desired thickness of gravy).

Stage3-Bring to boil, then reduce heat. Add meatballs and simmer for 30 minutes.

Stage4-Remove meatballs and lemon slices, then add sour cream and mix well. Replace meatballs and serve.

Orson Herrmann says :
My mother made Konigsberger klopse regularly. She came from Tilset East Prussia, Germany. She used whole kernals of allspice in the sauce. Sometimes buttermilk was used. The yellow of the egg added color. It was often served with saltz kartophel.
Posted on:
27 February 2012 - 6:11pm

From Wikipedia Königsberger Klopse (or Klöpse), also known as Soßklopse, are a German dish consisting of meatballs in a white sauce with capers. They are named after the formerly German city of Königsberg (now Kaliningrad) and originate from the East Prussian cuisine. The meatballs are made from ground beef or ground pork (sometimes mixed with either ground salted herring or ground anchovy), onions, eggs, and spices. The meatballs are cooked in salt water, and the resulting broth is mixed with roux, cream, and egg yolk to which capers are added. The dish is usually served with boiled potatoes or rice.
Posted on:
6 March 2008 - 4:37pm