»

Recipes

»

Pie

»

Kidney Vegetable Pie
Kidney Vegetable Pie Recipe
Kidney Pie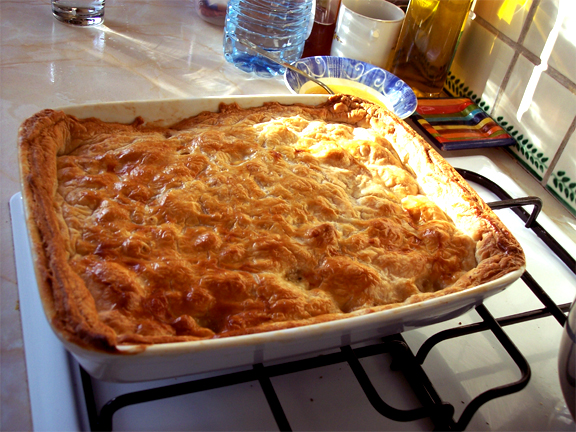 Ingredients
Beef kidney

1

Beef stew meat

1 Pound

, cut into 1/2 inch cubes

Shortening

2 Tablespoon

Tomato juice

1 1⁄2 Cup (24 tbs)

Onion

1 Medium

, sliced

Dried thyme leaves

1⁄4 Teaspoon

, crushed

Carrots

3 Medium

, sliced

Celery stalks

3

, sliced

Frozen lima beans/One 16 ounce can green lima beans, drained

10 Ounce

(1 Package)

All purpose flour

1 Tablespoon

Pastry topper

1⁄2 Cup (8 tbs)

(Adjust Quantity As Needed)
Directions
Remove membrane and hard parts from kidney.
In saucepan combine kidney, 4 cups water, and 1 tablespoon salt.
Soak for 1 hour; drain.
Cover with cold water.
Bring to boiling; simmer, covered, 20 minutes.
Drain; cut kidney in 1/2-inch cubes.
Coat stew meat with 1/4 cup flour.
In Dutch oven brown stew meat in hot shortening.
Add tomato juice, 1 cup water, onion, 1 1/4 teaspoons salt, and thyme; cover and simmer till meat is almost tender, about 1 hour.
Stir in carrots, celery, and limas; simmer, covered, till vegetables are tender, 30 minutes.
Add kidney; bring mixture to boiling.
Combine 2 tablespoons cold water and 1 tablespoon flour; stir into stew.
Cook and stir till thickened and bubbly.
Pour into 2-quart casserole.
Place Pastry Topper atop hot mixture.
Bake at 450° till pastry is lightly browned, about 15 to 20 minutes.