»

Recipes

»

Indian

»

Dahi

»

Raita

»

Khara Boondi Raita
Khara Boondi Raita Recipe
This Khara Boondi Raita can be had along with rice or as an appetizer. Crunchy boondi in seasoned curds is an irresistible treat ! Chill this raita if you want to and add some date syrup to the raita for some extra taste ! Try this Khara Boondi Raita and tell me if you like it !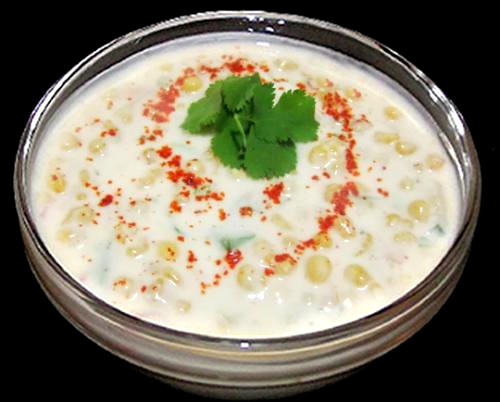 Ingredients
Gram flour

2 Tablespoon

Cumin seeds

1 Teaspoon

, roasted

Baking powder

1 Pinch

Chili powder

To Taste

Plain raita

1 Cup (16 tbs)

Coriander leaves

4

Ghee

2 Tablespoon
Nutrition Facts
Serving size: Complete recipe
Calories 547 Calories from Fat 357
% Daily Value*
Total Fat 41 g62.7%
Saturated Fat 23.8 g118.8%
Trans Fat 0 g
Cholesterol 111.6 mg
Sodium 203.9 mg8.5%
Total Carbohydrates 32 g10.6%
Dietary Fiber 4.3 g17.3%
Sugars 14.7 g
Protein 16 g32.5%
Vitamin A 23% Vitamin C 7.3%
Calcium 40.7% Iron 29.2%
*Based on a 2000 Calorie diet
Directions
Mix the channa flour and baking powder and mix into a soft paste.
Do not add salt.
Heat ghee in a deep frying pan.
Pass the dough through a thick sieve directly on to the hot ghee, so that it falls in small balls.
Fry these till brown, and drain.
When cool, soak them in the raita.
Add cumin seeds.
Decorate with chilli.
Garnish with coriander leaves.