»

Recipes

»

Pie

»

Lime Pie

»

Key Lime Pie
Key Lime Pie Recipe
My wife likes this easy key lime pie recipe. This is a kid friendly recipe. It is absolutely delicious dessert. It is generally made on Saint Patrick's Day. This dessert makes your Saint Patrick's day celebrations more enjoyable.Try this Key Lime Pie recipe and brings joy to your home.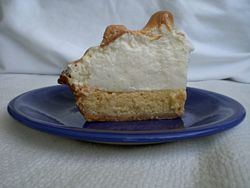 Ingredients
9 inch pie crust

1

Egg yolks

2

Sweetened condensed milk

14 Ounce

1/2 cup lime juice, from concentrate

Cool Whip

8 Ounce
Directions
Step1-Preheat oven to 350 degrees Fareinhite.

Step2-In a bowl, beat egg yolks with sweetened condensed milk, lime juice and food coloring if desired.

Step3-Pour into prepared pastry shell; bake 25 minutes. Cool. Chill.

Step3-Top with Cool Whip.

Step4-Garnish as desired. Refrigerate leftovers.