»

Recipes

»

Indian

»

Punjabi

»

Keema Mattar
Keema Mattar Recipe
Keema matar or keema muttar is a preparaton of mutton with peas. Spicy and filling, the keema matar curry can be served with rice or pulao and is flavord with garam masala, coriander powder, red chilies, cumin, ginger and garlic. This recipe for keema matar an be cooked in teh microwave.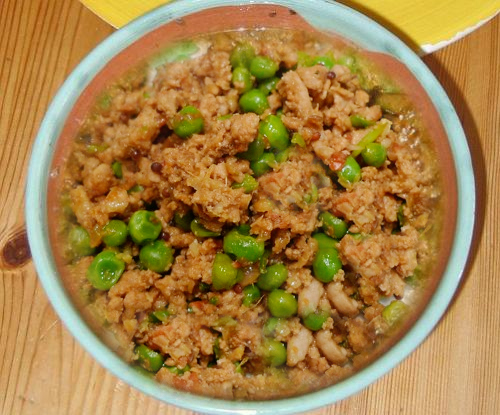 Ingredients
Mutton

500 Gram

Tomato puree

100 Gram

Frozen peas

200 Gram

Onions

200 Gram

, finley chopped

Salt

To Taste

Red chilli powder

1.5 Teaspoon

Garam masala powder

1.5 Teaspoon

Coriander powder

1 Teaspoon

Ginger

1 Teaspoon

, finely chopped

Garlic

1 Teaspoon

, finely chopped

Curd

4 Tablespoon

Cumin seeds

1/2 Teaspoon

Oil

3 Tablespoon
Directions
Heat oil in a 1 litre medium dish on 100% power for 1:30 minutes.
Add the cumin seeds, ginger and garlic and microwave on 100% power for 1 minute.
Add the onions and microwave on 100% power for 8 minutes.
Mix in the tomato puree, salt, red chilli powder, garam masala powder, coriander powder and 50 ml water.
Microwave on 100% power for 3 minutes.
Add the mutton mince, peas and lightly beaten curd.
Mix well and microwave partially covered on 100% power for 2:30-3:00 min.
Mix.
Allow standing covered with a foil for 10-15 minutes.
Garnish with chopped coriander leaves and tomato wedges if desired.

Anonymous says :
very bad recipie hud hi khao
Posted on:
31 October 2011 - 6:24pm
Hi, why do you think this is a bad recipes? It is a very yummy dish, try it, very tasty with freshly made bakery bread or even with parantha or naan. People in Lucknow eat this for a breakfast dish.
Posted on:
1 November 2011 - 9:19am