»

Recipes

»

Indian

»

Kanom Mo Kaeng
Kanom Mo Kaeng Recipe
Kanom Mo Kaeng is a sinfully delicious dessert that leaves a memorable taste. I often serve the Kanom Mo Kaeng for dinner parties at home for a change. Try this brilliant recipe for Kanom Mo Kaeng.
Khanom mo kaeng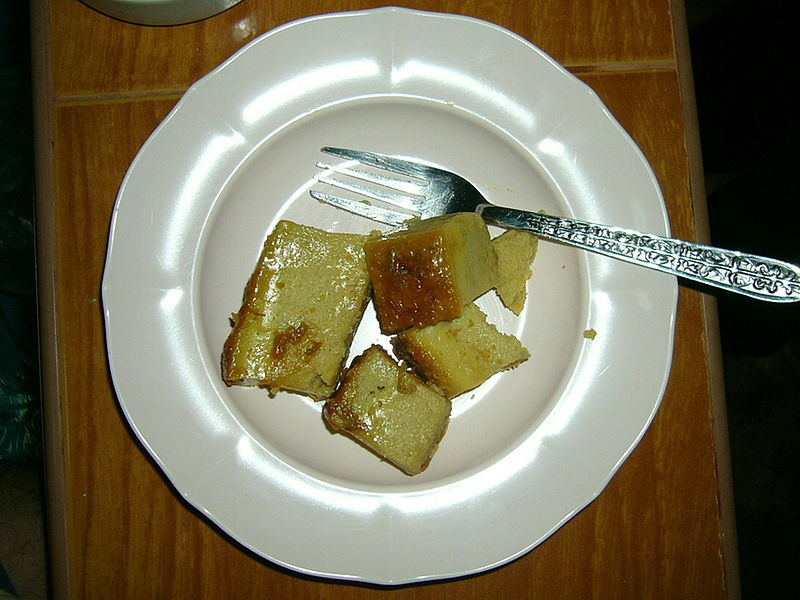 Ingredients
Butter

1 Teaspoon (Leveled)

Thick coconut milk

500 Milliliter

Eggs

7 Small

, beaten

Brown sugar

125 Gram

Rose water

15 Milliliter

Shredded coconut

30 Gram

, can also be desiccated
Nutrition Facts
Serving size: Complete recipe
Calories 2762 Calories from Fat 1026
% Daily Value*
Total Fat 120 g185.3%
Saturated Fat 96.1 g480.3%
Trans Fat 0 g
Cholesterol 1131.5 mg
Sodium 558.7 mg23.3%
Total Carbohydrates 398 g132.6%
Dietary Fiber 3.7 g14.8%
Sugars 386.4 g
Protein 40 g80.7%
Vitamin A 27.4% Vitamin C 1.6%
Calcium 16.6% Iron 34.7%
*Based on a 2000 Calorie diet
Directions
Preheat the oven to 180°C.
Grease a shallow rectangular baking dish with a little butter.
Place all the ingredients in a large bowl and beat together till well combined.
Place the bowl over a double boiler and stir, till the mixture thickens and reaches the consistency of soft scrambled eggs.
Pour into the baking dish and bake for 30 minutes till the top turns golden brown, but ensure that the top doesn't burn.
Remove and allow to cool, then cut into four cm squares and serve.