»

Recipes

»

Indian

»

KAIRI KI LAUNJI
KAIRI KI LAUNJI Recipe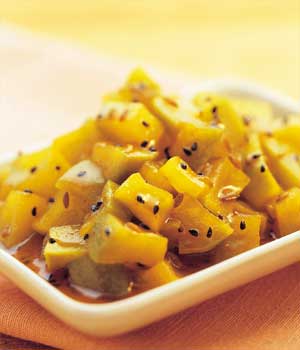 Summary
Preparation Time
10 Min
Cooking Time
10 Min
Ready In
20 Min
Health Index
Healthy
Recipe Story
An instant pickle from Rajasthan that perks up any meal with its sweet 'n sour magic.
Ingredients
Peeled and cubed raw mango

1 Cup (16 tbs)

Fennel seeds

1⁄2 Teaspoon

(saunf)

Nigella seeds

1⁄4 Teaspoon

(kalonji)

Coriander powder

3 Teaspoon

(dhania)

Chilli powder

1 Teaspoon

Turmeric powder

1⁄4 Teaspoon

(haldi)

Sugar

1⁄3 Cup (5.33 tbs)

Oil

2 Tablespoon

Salt

To Taste
Nutrition Facts
Serving size
Calories 378 Calories from Fat 153
% Daily Value*
Total Fat 17 g26.8%
Saturated Fat 2.2 g11%
Trans Fat 0 g
Cholesterol 0 mg
Sodium 225.5 mg9.4%
Total Carbohydrates 61 g20.2%
Dietary Fiber 7 g28.1%
Sugars 51.3 g
Protein 2 g4.4%
Vitamin A 33.3% Vitamin C 61.6%
Calcium 9.3% Iron 13%
*Based on a 2000 Calorie diet
Directions
Method
1.Heat the oil in a pan, add the fennel seeds, nigella seeds and mango pieces and sauté for 2 minutes.
2.Add the coriander powder, chilli powder, turmeric powder, sugar and salt with 4 tablespoon of water. Stir and simmer till the sugar has dissolved.
3.Allow to cool completely.
4.Store refrigerated for up to 4 days.

thanks dear...being a rajasthani we used to make this dish...and i thought i also share this with my all food lover friends.... thanks for all valuable comments Rupal Anand
Posted on:
24 April 2008 - 7:10am

Rajasthani dishes are famous for its spicy flavor.This pickle recipe is wonderful that is showing the real taste of Rajasthani food. Thanks for sharing this nice pickle recipe.
Posted on:
23 April 2008 - 12:49pm