»

Recipes

»

Indian

»

Tamil

»

Kadala Curry
Kadala Curry Recipe
This dish goes well with puttu(steamed rice cake), chappathi(indian bread), appam(hoppers), dosa(south indian crêpe) and idli.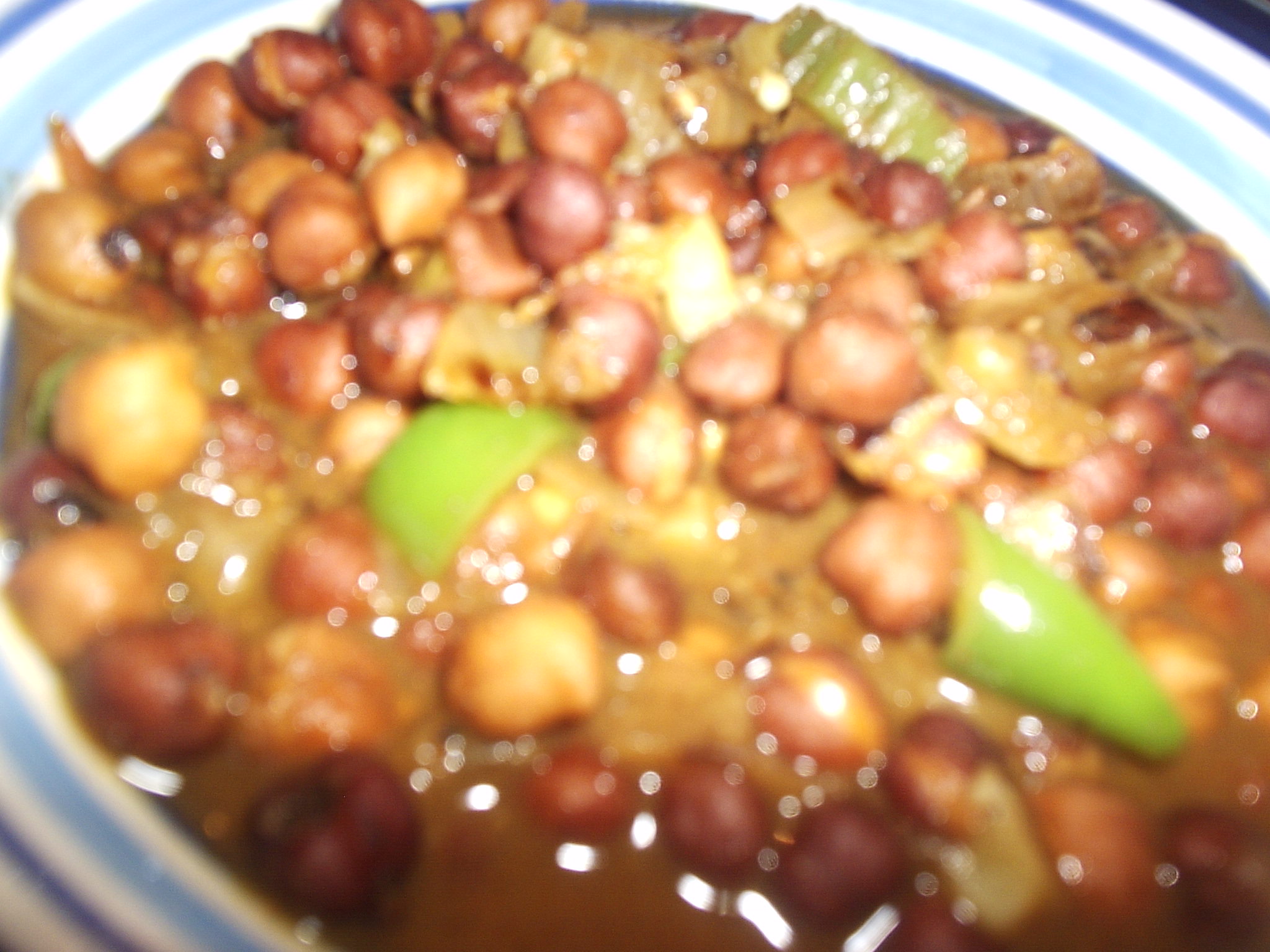 Ingredients
Chickpeas

1 Cup (16 tbs)

Onion

1

Onion

1

, diced finely (should be of medium size)

Tomato

1

, diced finely (should be of medium size)

Tomato

1

Garlic

2

, diced finely

Garlic

1

Ginger

1 Tablespoon

, diced finely

Ginger

1 Tablespoon

Chilly

1

Chilly

1

, diced finely

Coriander/ cilantro sprig

2

Cilantro sprigs

2

(coriander leaves)

Chole masala

1 Tablespoon

Red chili powder

1 Teaspoon

Turmeric powder

1⁄4 Teaspoon

Garam masala powder

1⁄2 Teaspoon

Mustard seeds

1 Teaspoon

Coconut milk

1⁄4 Cup (4 tbs)

Salt

1 1⁄2 Teaspoon
Nutrition Facts
Serving size
Calories 293 Calories from Fat 70
% Daily Value*
Total Fat 8 g12.8%
Saturated Fat 3.9 g19.4%
Trans Fat 0 g
Cholesterol 0 mg
Sodium 805.8 mg33.6%
Total Carbohydrates 45 g15%
Dietary Fiber 12.1 g48.3%
Sugars 11 g
Protein 13 g25.6%
Vitamin A 16.3% Vitamin C 50.9%
Calcium 10.4% Iron 23.2%
*Based on a 2000 Calorie diet
Directions
1. Wash and soak the chickpeas overnight. Pressure cook with 2 cups of water in a medium flame for about 25 mins. Switch of the flame and let it cook for another 15 mins.
2. After that open the pressure cooker and add the coconut milk and salt. Bring the cooked chickpeas to a boil. The adding of coconut milk is absolutely optional. If you want to thicken the gravy, take about 1/2 cup of cooked chickpeas and grind it to a paste and add the paste to the curry. Let the curry simmer for a while.
3. In a hot pan, add oil and let the mustard seeds splutter.
4. Add the onion and saute till it starts to turns into brown color. Add curry leaves, garlic and ginger and saute for another 1 min.
5. Reduce the flame and add the chole masala, chilly powder and turmeric powder and saute for 30 secs.
6. Add the tomatoes and chilly and bring the flame back to medium. Let the tomatoes cook till it blends well with the onion and spices. Finally add the chopped cilantro.
7. Add this mixture to the simmering curry. Then add the garam masala powder.Let all the flavors blend in well for about 1 more min and then switch off the flame.

Cool for about 5 mins and serve hot...

This is a typical Kerala curry..Coconut milk added curries are usually ate with appams..
Posted on:
1 February 2008 - 5:32pm

Its almost like chole except that brown channa and coconut milk is being used. Coconut milk and channa is an interesting combination. I have never eaten something like this before. Am sure it is good. Shall give it a try.
Posted on:
1 February 2008 - 5:25pm