»

Recipes

»

Asian

»

Turkish

»

Kadaif
Kadaif Recipe
Kadaif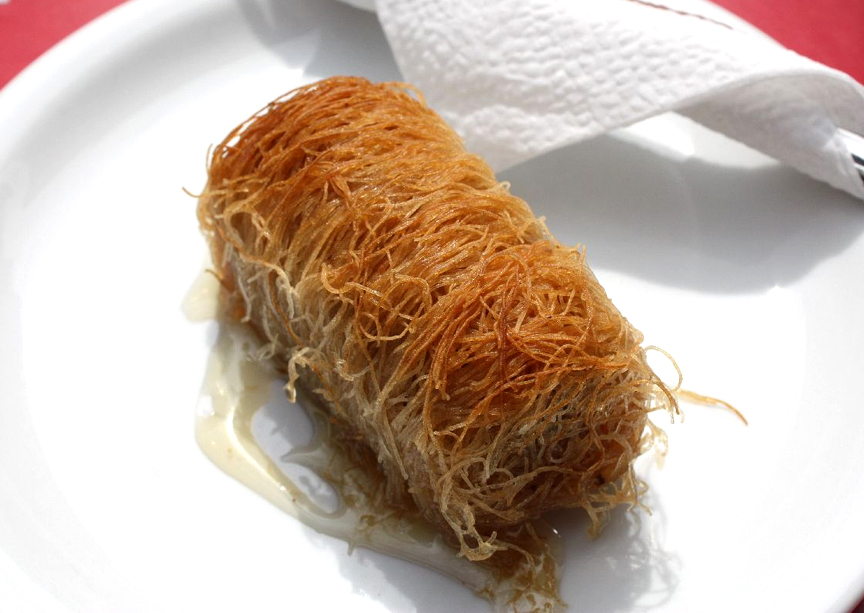 Ingredients
Kaddafi pastry

1 Pound

Sugar

1⁄4 Cup (4 tbs)

Walnut meats

1 1⁄2 Cup (24 tbs)

, finely chopped

Cinnamon

1 Teaspoon

Butter

1 Cup (16 tbs)

, melted

Blanched almonds

3⁄4 Cup (12 tbs)

, finely chopped

Hot milk

1 Cup (16 tbs)

Syrup

1 Cup (16 tbs)
Nutrition Facts
Serving size: Complete recipe
Calories 7593 Calories from Fat 4371
% Daily Value*
Total Fat 495 g762%
Saturated Fat 143.1 g715.4%
Trans Fat 0 g
Cholesterol 506.4 mg
Sodium 2194.6 mg91.4%
Total Carbohydrates 689 g229.8%
Dietary Fiber 70.1 g280.2%
Sugars 67.5 g
Protein 133 g265.1%
Vitamin A 117.5% Vitamin C 0.32%
Calcium 110.9% Iron 183.4%
*Based on a 2000 Calorie diet
Directions
Arrange half the kadaife pastry in a greased 9x9X2 inch pan.
Combine walnuts, almonds, sugar, and cinnamon and sprinkle over the kadaife in the pan.
Pour half the melted butter over the nut mixture and top with remaining kadaife.
Pour hot milk and remaining butter over top kadaife.
Cover and bake in a 350 degree oven for 35 minutes.
Remove from oven and immediately pour hot syrup over pastry.
Cover with a towel and with another pan and let stand until cool.
Cut into 2 inch squares.
Syrup: Combine 3/4 cup honey, 1/4 cup sugar, and 1 cup water.
Bring to a boil and boil for 5 minutes.