»

Recipes

»

Chicken

»

Kadai Chicken
Kadai Chicken Recipe
Kadai Chicken literally means Chicken cooked in a 'Kadai' or Wok. This spicy chicken dish can be eaten with any Indian Flat Bread.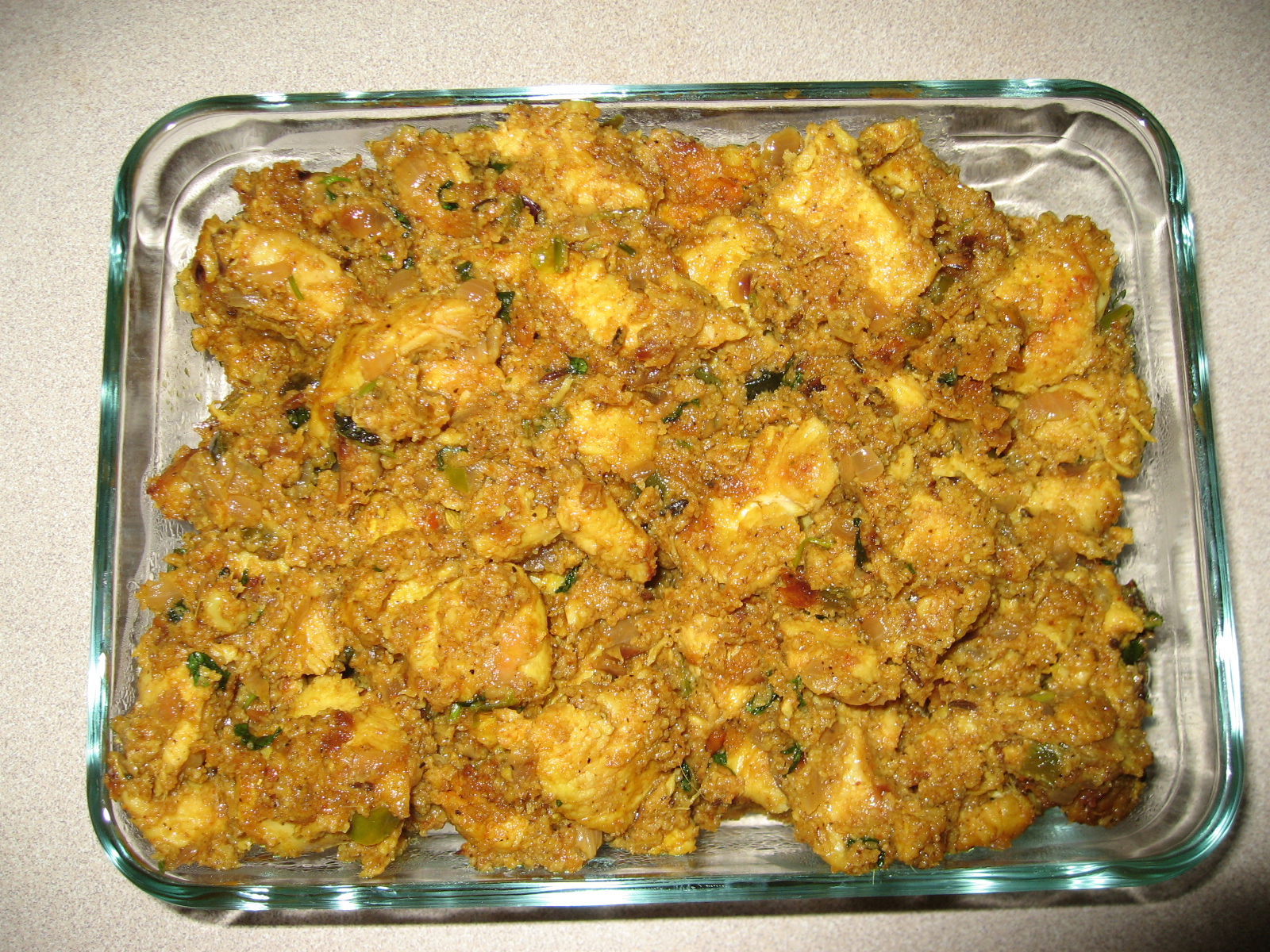 Ingredients
Boneless chicken breasts

1 Pound

, weighing around

Onions

1 Medium

Tomato

2 Medium

Green chilies

3

Dried fenugreek leaves

5 Tablespoon

, kasoori methi

Ginger garlic paste

1 Teaspoon

Turmeric powder

1⁄4 Teaspoon

Black pepper powder

1⁄4 Teaspoon

Dhaniya powder

1 Teaspoon

, coriander powder

Garam masala powder

1⁄2 Teaspoon

Chilly powder

To Taste

Salt

To Taste
Nutrition Facts
Serving size
Calories 142 Calories from Fat 15
% Daily Value*
Total Fat 2 g2.5%
Saturated Fat 0.36 g1.8%
Trans Fat 0 g
Cholesterol 52.6 mg
Sodium 196.7 mg8.2%
Total Carbohydrates 8 g2.8%
Dietary Fiber 2 g8.1%
Sugars 3.5 g
Protein 23 g45.7%
Vitamin A 11.4% Vitamin C 42.3%
Calcium 4.1% Iron 7.5%
*Based on a 2000 Calorie diet
Directions
Cut chicken into cubes and marinade with ginger-garlic paste, turmeric powder, salt and chilly powder and refrigerate for at least 30 minutes.

Heat a wok and shallow fry 1 onion, 2 tomatoes and green chillies and grind into a smooth paste by adding 2 cups of water. Keep aside.

Heat a kadai/wok, add 4 tbs of oil. Add the marinated chicken and fry well, moving the pieces around. Cover and cook for 2 minutes. Once the chicken pieces are 3/4rth done, add the ground masala; mix well and make sure the masala coats the pieces well.

Add dhaniya powder, garam masala powder, methi and black pepper powder and mix well. Continue cooking until the water evaporates and masala attains a golden brown color. (approx 10 minutes)

Serve Hot with any Indian Flat Bread

Thank you tasha. Adding whole garam masala will surely give out a better flavor. I use the powder for convenience sake but when making biryani, I usually put in the extra effort of making fresh masala. Anyway...I am glad you enjoyed the dish.
Posted on:
30 January 2011 - 12:41pm

We are breaking our lent tomorrow, and I think I should try preparing this dish. I agree with everyone about how irresistible this dish looks. I think, the perfect accompaniment would be Butter Nan.
Posted on:
11 April 2009 - 12:55pm

Thank you Snigdha and veg foodie! Paneer is a yuumy substitute for meat in many dishes!
Posted on:
11 April 2009 - 12:46am

nice and spicy combo... good for a party.. i love kadai anythings.. of course, it has to be veggie. as foodpsychologist says.. kadai panner/cottage cheese is actually a great dish. Its one of my favs!! love d spice.. three cheers for Indian cuisine!
Posted on:
1 April 2009 - 2:19pm

I agree with what the others say.The gravy looks simply irresistible. I think the gravy will go well with paneer(cottage cheese)also. I am sure it will be a superb treat for vegetarians.
Posted on:
1 April 2009 - 10:54am

The recipe seems to be very delicious...the tip about kasoori methi is a good one. I use it most of the time while preparing any kind of gravy. Once I tried with aloo paratha, and the flavor was gr8...
Posted on:
1 April 2009 - 8:36am

The gravy looks so yum... btw, Kasoori Methi/ Dried Fenugreek leaves is used for flavoring right... I tried this in one of my cauli manjoorian preps and it subtly adds the indian aroma to the gravy... One tip - the flavor of methi can be enriched by boiling a few pinch of the leaves in a small quantity of water and adding it to th gravy when you are done with the prep.. try it :)
Posted on:
1 April 2009 - 5:16am