»

Recipes

»

Indian

»

Chana

»

Kabli Chana
Kabli Chana Recipe
Kabli Channa has a lovely taste. Kabli Channa gets its taste from Bengal gram mixed in garam masala and flavored with spices. Kabli Channa is liked by many people worldwide.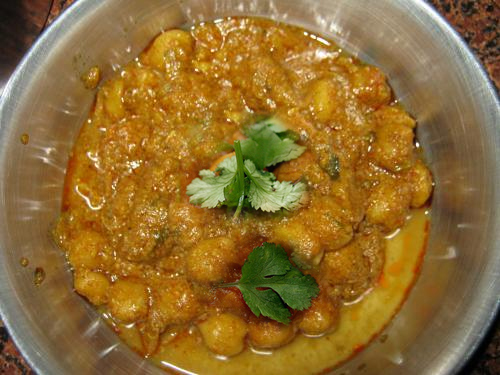 Summary
Difficulty Level
Easy
Cuisine
Indian
Ingredients
Chickpeas

225 Gram

(Bengal Gram)

Water

750 Milliliter

Salt

1 Teaspoon

Oil/Concentrated butter

2 Tablespoon

Onion

1

, chopped

Cinnamon stick

2 1⁄2 Centimeter

Cloves

4

Garlic

2 Clove (10 gm)

, crushed

Ginger root piece

2 1⁄2 Centimeter

, peeled and chopped

Ginger root piece

1 Inch

, 2.5 centimeters, peeled and chopped

Green chilies

2

, finely chopped

Ground coriander

2 Teaspoon

Tomatoes

150 Gram

, chopped

Garam masala

1 Teaspoon

Chopped coriander leaves

1 Tablespoon

(Use Fresh)

Chopped fresh coriander

1 Tablespoon
Nutrition Facts
Serving size: Complete recipe
Calories 1257 Calories from Fat 409
% Daily Value*
Total Fat 47 g72.4%
Saturated Fat 5.5 g27.7%
Trans Fat 0 g
Cholesterol 0 mg
Sodium 2179.2 mg90.8%
Total Carbohydrates 171 g57.1%
Dietary Fiber 49.3 g197.2%
Sugars 35.3 g
Protein 50 g101%
Vitamin A 75.3% Vitamin C 168.5%
Calcium 46.1% Iron 96.9%
*Based on a 2000 Calorie diet
Directions
Wash the chick peas or gram and soak in the water overnight.
Add the salt and simmer until tender.
Drain, reserving the water, and set aside.
Heat the oil or butter in a pan, add the onion and fry until golden.
Add the cinnamon and cloves and fry for a few seconds, then add the garlic, ginger, chillies and ground coriander and fry for 5 minutes.
Add the tomatoes and fry until most of the liquid has evaporated.
Add the cooked gram and cook gently for 5 minutes, then add the reserved water and simmer for 20-25 minutes.
Add the garam masala and stir well.
Sprinkle with the chopped coriander and serve at once.